Beyond rare, beyond exotic, beyond belief. A look at Park Place Premier Collection's most exclusive and thrilling addition to their brand family yet- Koenigsegg- including celebrating the brand's most recent hybrid addition.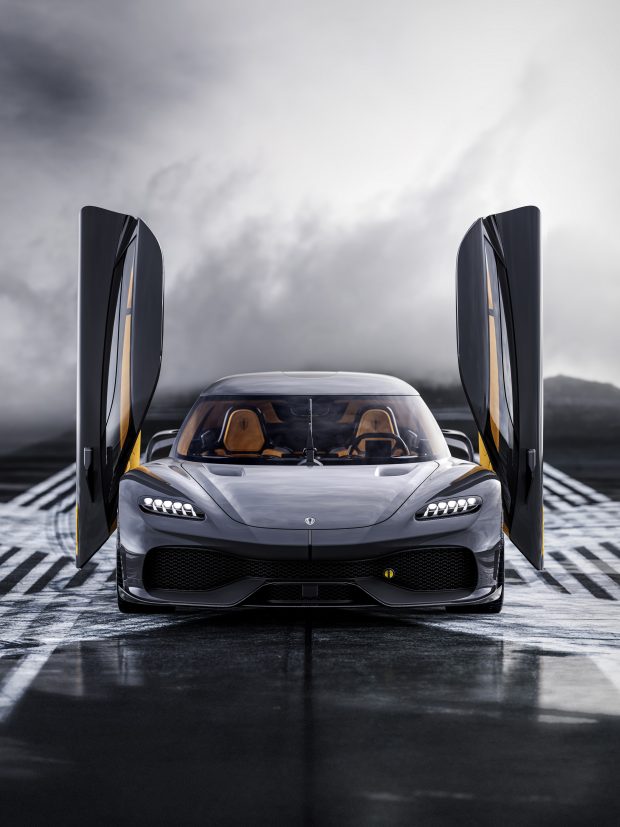 ---
Most people haven't ever heard of Koenigsegg, much less seen one of the Swedish manufacturer's two-seat hypercars in real life. Seeing one, in fact, is a little like seeing a Yeti. Or a unicorn. Or a Yeti riding a unicorn. In outer space.
But you might very well see one in Big D, because Park Place Premier Collection now represents the Koenigsegg line. And that's a very big deal indeed.
Origins of the Perfect Supercar
Koenigsegg's exclusivity is due entirely to the company's annual output of just around 20 cars a year. Each one priced well over a million dollars and they're almost always sold out in advance. Founded in 1994 by 22-year-old Christian von Koenigsegg (who'd already made his fortune with a wildly successful export business), the company was built on one precept: create the perfect supercar.
To Christian, that meant starting from scratch, rethinking every supercar that went before, and designing and crafting all assemblies and subsystems in-house with his small engineering team. In just two years, they developed a successful prototype featuring a fabricated monocoque chassis and specially designed suspension, brakes, wishbones and uprights that debuted successfully at the 1997 Paris Motor Show as the Koenigsegg CC.
More development and testing followed, resulting in 2002's 655-hp CC8S, the company's first street-legal production car. In 2006, they brought forth the 806-hp CCX, followed by the 1,108-hp CCXR (in a number of variants), a biofuel/flex fuel version of the CCX which Forbes magazine called one of "the world's most beautiful cars."
Like most works of art, these early models are now in the hands of collectors.
New Models, Innovative Design, Painstaking Engineering
New models with increasingly innovative design and painstaking engineering followed, such as 2010's 914-hp Agera with variable turbo geometry turbochargers; 2015's 1,100-hp hybrid Regera, and the 2019 Jesko, named after Christian's father, with 1,280-hp on standard gasoline and 1,600-hp on E85 biofuel.
Next In Line- 1,700-hp Gemera
Next in line – the 1,700-hp hybrid Gemera, the company's first four-seater featuring an innovative 2.0-liter twin-turbo, camless three-cylinder engine (good for 600-hp on its own). The powerplant is so innovative, it even has its own name: the "Tiny Friendly Giant Engine." The Gemera's range is equally astonishing – 620 miles.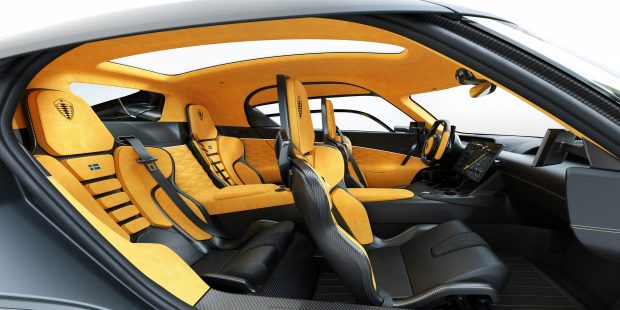 But it's one thing to stuff ever-more powerful engines in a light frame and call it good. Koenigsegg designs every single component to exceed the tolerances of their extreme capabilities. From raw materials to software tools, systems and maintenance, every detail has a function – allow the car to deliver the highest performance.
You Won't Mistake it For Anything Else- Trust Us
They like to say that a Koenigsegg is sculpted by aerodynamic efficiency. That's for sure – you'll never mistake a Koenigsegg model for anything else (except maybe a Transformer character). There's simply nothing else that looks like, performs like, or is engineered to such exacting precision, as a Koenigsegg.
Little wonder that these mechanical marvels are all sold out virtually from the moment of announced production.
"I truly feel that our cars have souls," said Christian Koenigsegg. "We have all poured our hearts into the creation of the cars and we are confident this can be experienced when driving one."
The Koenigsegg brand is available at Park Place Premier Collection in Dallas.