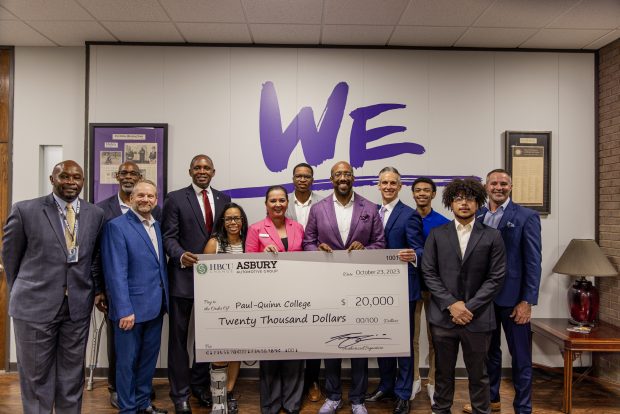 Park Place Dealerships recently visited Paul Quinn College in Dallas to present a $20,000 check from the "Round Up Change for HBCU Change" program.
"I'd like for every student that graduates from Paul Quinn College to believe they are capable of more now than when they started," said Paul Quinn President Michael Sorrell. "I'd like for them to believe in the inevitability of their own success."
From May 2021 – August 2023, Asbury Automotive Group (ABG) dealerships across the U.S. raised more than $800,000 for the HBCU Change program through guests' donations and the company's matching donations.
"Through our interactions every day, we've had the opportunity to educate our North Texas community about what HBCU does and how it can impact them," said Tony Carimi. "We both strive to make an impact in our own backyard…to provide not just a higher level of service, but a higher level of connection."
This was the third presentation to a HBCU in the past 12 months. Asbury Automotive executives David Hult, Wendy Reynold-Dobbs and Sid Barron presented a $100,000 check to Clark Atlanta University in October 2022. Malcolm Gage and Plaza Motors St. Louis presented $20,000 checks to both Lincoln University and Harris Stowe State University last month. HBCU Change has a goal of raising $1 billion for Historic Black Colleges & Universities over the next 5 years working with partners like Asbury.
Founded in 1987, Park Place Dealerships has been engaged in the community through its support of the arts, medical research, children's advocacy, and education. Park Place employs more than 1,400 members and operates nine full-service dealerships representing luxury brands including Lexus, Mercedes-Benz, Porsche, Volvo, Land Rover, Acura, and Sprinter Vans. Park Place BodyWerks Collision Centers in Fort Worth, Dallas, and Plano and the Park Place Auto Auction, round out the company's offerings. Park Place was acquired in 2020 by Asbury Automotive Group, Inc., a Fortune 500 company headquartered in Duluth, GA. For more information, visit parkplace.com.