Land Rover DFW One of Only 12 in Nation to Receive Pinnacle Retailer Excellence Award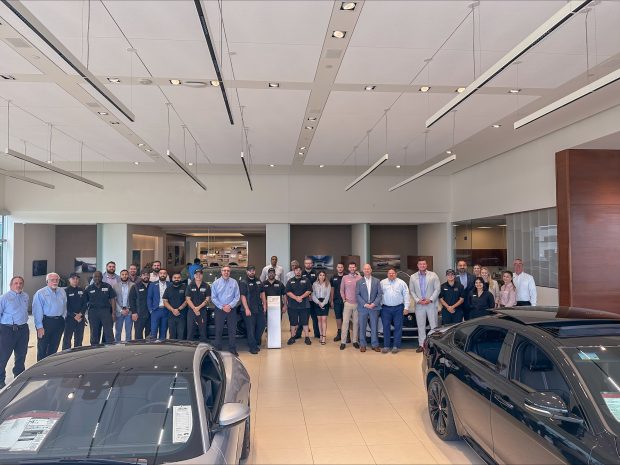 Park Place Land Rover DFW is one of only 12 Land Rover retailers in the U.S. to earn the prestigious Pinnacle Retailer Excellence Award for exceptional sales, service and customer satisfaction.
"We're very grateful to our clients for their support and loyalty," said Matt Woolsey, Land Rover DFW general manager. "We're proud of our members working together to deliver the highest level of service to our clients. We strive to make every Land Rover experience exceptional."
Land Rover DFW offers the full inventory of new Range Rover, Defender and Discovery vehicles, as well as high-quality, Approved Certified Pre-Owned vehicles.
For many years, the dealership also has delivered exceptional Park Place experience to Jaguar clients. Today, Jaguar is undergoing a major transition that affects every element of its business model—including reimagining Jaguar as a pure electric luxury brand. While those changes are exciting, they signal a shift to a smaller, more exclusive vehicle lineup with a reduction in the number of Jaguar retailers.
"Park Place will no longer sell new Jaguar models starting July 1st," continues Woolsey. "The dealership's name will change to Park Place Land Rover DFW. However, the dealership will continue to provideexpert Jaguar service and repairs, as well as sales of pre-owned and Certified Pre-Owned Jaguars. In addition, we will still accept Jaguar lease returns, but we will not be able to offer new Jaguar upgrades after July 1."
Park Place Dealerships was founded in 1987 and has been engaged in the community through its support of the arts, medical research, children's advocacy, and education. Park Place employs more than 1,400 members and operates nine full-service dealerships representing luxury brands including Lexus, Mercedes-Benz, Porsche, Volvo, Land Rover, Acura, and Sprinter Vans. Park Place BodyWerks Collision Centers in Fort Worth, Dallas, and Plano and the Park Place Auto Auction, round out the company's offerings. Park Place was acquired in 2020 by Asbury Automotive Group, Inc., a Fortune 500 company headquartered in Duluth, GA. For more information, visit parkplace.com.