Back to School is an exciting time for students. But the 2020-21 school year is especially fraught with uncertainty. Many parents in Dallas County are struggling financially from the economic impact brought on by the COVID-19 outbreak. Regardless of whether students return to the classroom or are learning online, the purchase of school supplies adds to the stress.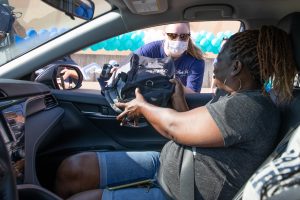 Park Place Dealerships teamed up with the After-School All-Stars (ASAS) to provide 140 students in Dallas ISD and a local charter school with free backpacks filled with supplies for the upcoming school year. The event, held at Hector P. Garcia Middle School in Oak Cliff, was a cross between a Pep Rally and the Student Drop-Off line. A Deejay pumped out popular tunes as cars drove through the line. Dallas ISD teachers, After School All-Star staff and Park Place members, all appropriately masked and observing social distancing guidelines, were dancing, jumping up and down, and shouting encouragement to students and parents as they passed through, then handing them stuffed backpacks through the open car windows.
"The energy was electric," said Anam Ali Hashambhai, Park Place Dealerships Experiential Marketing Manager. "It was fun to see the kids' faces light up when we handed them their own backpack. The parents and guardians were also very grateful. Honestly, I think we got more out of it than the kids! It's humbling and very rewarding to serve our community."
Each backpack contained a $10 Chick Fil-A gift card; HotBoyz masks donated by Dallas Cowboys player Demarcus Lawrence; an inspirational book: "The Playbook: 52 Rules to Aim, Shoot, and Score in This Game Called Life" by Kwame Alexander; a bookmark; spiral notebooks; loose leaf paper; a pencil pouch; pencils; pencil sharpener; markers; ruler; glue stick; colored pencils; folders; lanyards, USB drive; composition books; highlighters; pens; dry erase markers; and a stress ball.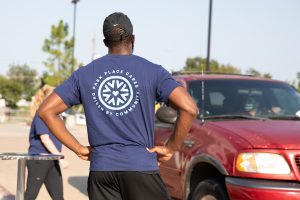 Over the past 33 years, Park Place has supported hundreds of non-profits through grants, in-kind donations, event sponsorships, and unique experiences across Dallas/Fort Worth. Through Park Place Cares, the luxury automotive group supports philanthropic efforts in the arts, medical research, children's advocacy, and education.
ASAS is one of the largest free school-based out-of-school time program providers in the country and currently offers programming to more than 850 students per year in six high-needs schools across Dallas County. ASAS North Texas serves schools in low-income neighborhoods in an effort to serve the students most in need. 97% of the students identify as black, indigenous, or youth of color and 88% are considered economically disadvantaged.
For more information about ASAS, visit them at afterschoolallstars.org.