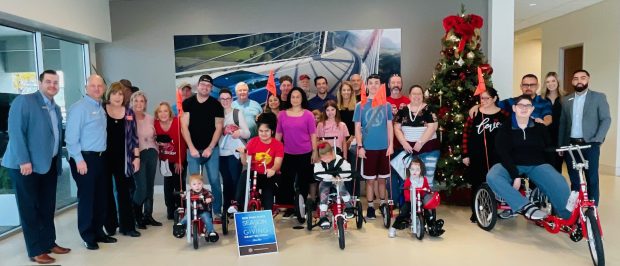 Park Place Jaguar Land Rover DFW presented Grapevine AMBUCS with AmTrykes to the organization and several local children. Grapevine AMBUCS was one of 23 DFW non-profits to receive a total of $100,000 in the 2nd Annual Park Place Dealerships Season of Giving campaign.
"We were thrilled to host Grapevine AMBUCS," said Matt Woolsey, Park Place Jaguar Land Rover General Manager. "Children with disabilities often feel left out. The innovative AmTryke is a therapeutic tricycle that gives a child freedom of movement and builds their self-esteem. With the AmTryke, kids with disabilities can have freedom of movement just like family and friends."
More than 400 charities applied for the 2022 Season of Giving grants, representing Park Place Cares' four pillars. The local non-profits who received grants included:
Advocacy
· Assistance League of Greater Collin County
· Emily's Smile Boxes
· Alliance for Children
· Seniors' Pet Assistance Network (SPAN)
· Amy's Wish with Wings
· Carson's Crusaders Foundation
· Operation Once in a Lifetime
· Just Because, Inc.
· C.A.S.T. for Kids Foundation
· Christmas Wish Project of Tarrant County
· Dallas Leadership Foundation
· AUsome Moms
· Dallas Hope Charities
Arts
· Art House Dallas
· Texas Girls' Choir
Medical
· Black Heart Association
· Cancer Care Services
· Wipe Out Kids' Cancer
Education
· It's a Sensory World Inc.
· City House
· Tarrant County Samaritan Housing Inc.
· Dallas Furniture Bank
Grapevine AMBUCS is dedicated to creating mobility and independence for individuals with disabilities through weekly meetings; performing community service projects; providing AmTryke therapeutic tricycles to people with disabilities; awarding scholarships to therapy and vocational students; and building wheelchair ramps. More information about Grapevine AMBUCS is available at https://grapevineambucs.wildapricot.org
Park Place Dealerships was founded in 1987 and has been engaged in the community through its support of the arts, medical research, children's advocacy, and education. Park Place employs more than 1,400 members and operates eight full-service dealerships representing luxury brands including Lexus, Mercedes-Benz, Porsche, Volvo, Jaguar, and Land Rover. Park Place BodyWerks Collision Centers in Fort Worth and Dallas, and the Park Place Auto Auction, round out the company's offerings. Park Place was acquired in 2020 by Asbury Automotive Group, Inc., a Fortune 500 company headquartered in Duluth, GA. For more information, visit parkplace.com.