An up-close-and-personal look at Park Place's Auto Auction for area authorized dealers.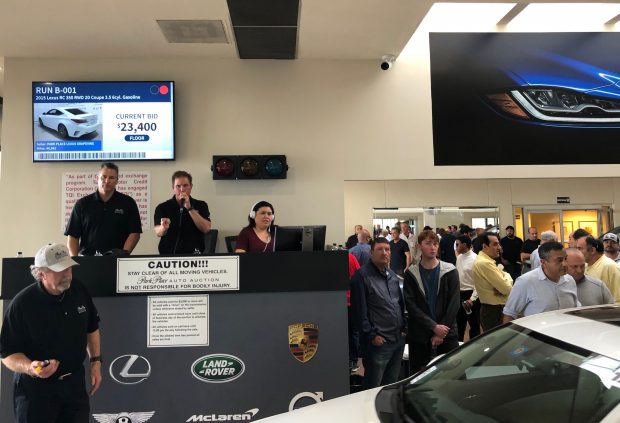 ---
It's 4 p.m. on Wednesday afternoon at Park Place Auto Auction in Plano, and the non-stop auctioneer chatter over the booming loudspeakers is silent now. The twin driveways are devoid of vehicles, while administrators inside the facility quietly wrap up the mounds of paperwork required to transfer ownership of nearly 200 vehicles.
But a mere two hours prior, the place was a buzzing beehive. Sedans, coupes, convertibles, SUVs, crossovers, pickups, minivans, sportscars and other vehicles of every make and manufacture creep slowly yet continuously along parallel driveways while about 200 potential buyers – independent and franchise dealers alike – raise a hand or give a nod and a wink to convey their bids. The din from fast-talking, sharp-eyed auctioneers is loud and urgent. Enormous wall-mounted monitors display a dizzying blur of vehicles and ever-rising numbers for all to see.
"The whole process is actually well under control," says Kenny Parmentier, Operations Manager of Park Place Auto Auction. "But to outsiders, it tends to look like complete mayhem," he adds with a chuckle.

Where Did It All Start?
The idea for getting into the auction business came from Park Place President Jordan Case, who wanted to create a clean, comfortable and well-kept environment where authorized dealers could find an extensive selection of both high-performance luxury cars and top-quality vehicles of all kinds, and engage in an efficient, hassle-free purchasing experience. In short, he wanted the auction business to function with the commitment to excellence that makes Park Place, well, Park Place.
More often than not, he's on hand to savor the experience, which kicks off every Wednesday at 2 p.m. sharp. From that point, a vehicle is sold every 38 seconds. In the next 90 minutes, about 195 out of about 200 vehicles will have changed hands. And then it's all over. Until next week, when it all starts again.
Where Do the Cars Come From?
Most of the vehicles come from Park Place pre-owned lots where they've been for 65 days, the result of trade-ins on something newer and shinier. Or they're front-line vehicles that are getting long in the tooth as a new model year looms. The auction gives them all a chance to find new homes – and Park Place more room for more desirable pre-owned vehicles that will hopefully turn faster.
Celebrating its two-year anniversary in February, the Park Place Auto Auction business is run in partnership with America's Auto Auction, a full-service company catering to dealers in 23 locations across 15 states. They handle all the day-to-day activity – checking vehicles in, taking pictures, and handling collections, payments, and titles.
Parmentier works for them, as does his five-member team.
"We're running at a 95 percent success rate," he says. "Once a vehicle is sold, the buyer has 48 hours to complete the sale and move the vehicle off the lot. It's a fast-paced business and really quite exciting. It's game day!"
In 2019, the business sold 8,647 vehicles or about 720 a month. Those that don't sell one week – called "reruns" – go through the line again a week later for another shot at success, and are usually snapped up by eagle-eyed bargain hunters.
That certainly wasn't the case when a 2019 Rolls-Royce and a 2018 McLaren came down the line.
"We don't get those rarities all that often," Parmentier grins, "but when we do, they're show-stoppers!"