GRAB YOUR PENS AND COLORED PENCILS! Park Place Land Rover is excited to introduce the next generation of the iconic Land Rover Defender after a 20+ year production hiatus with some lesser-known facts to tickle your brain and a custom coloring sheet to help relieve some stress and unleash your (or your kid's) inner creative.
A Short Introduction to the 2020 Land Rover Defender
The "Defender" as we know it didn't start out known as the Defender. Instead, when the first version was released Land Rover dubbed it the "Land Rover" meant to be an all-purpose auto. There were three iterations of this Land Rover- Series I, II, III- with Series I debuting in the late 1940s and costing a total of £450 or about $568. In just a year, orders for the Series 1 totaled about 8,000 with the British Army ordering their first batch of trial Land Rovers. Fast forward almost 60 years, and the Land Rover is officially christened with the immediately recognizable name of "Defender" as the "Discovery" officially joined the Land Rover line-up.
After a 23-year hiatus, we are finally welcoming the next iteration of the Defender family, which features a four-door Defender 110 (to go on sale first) and the two-door Defender 90 which will be available at a later date.
To help celebrate #athome, we've compiled a list of fun facts and released official Park Place Land Rover / Land Rover Defender color sheets for a fun at-home activity. Just scroll down for whichever you'd like to read first.
Your Defender, Your Way – Coloring Pages Available for Download
The new Defender is extremely customizable; with various options to fit your unique adventure needs. So, we challenge you to create your own bespoke variant by downloading our Custom Coloring Sheets featuring the 2020 Defender or by following us on Instagram
When your art is complete – post it to Facebook or your Instagram story and tag @parkplacetexas. You can download the Coloring Sheets here: Park Place Land Rover DEFENDER Coloring Sheet – Blank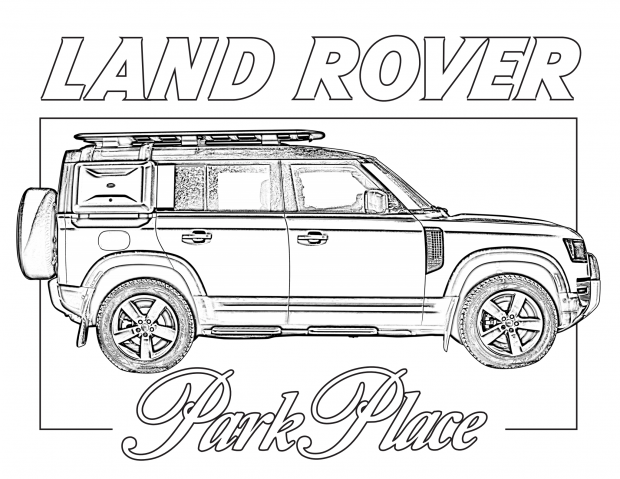 10 Fun Facts about the Land Rover Defender (Past and Present)
Below you'll find a list of 10 more fun (and maybe lesser-known) facts about the Land Rover Defender:
In 1952, Queen Elizabeth II of England took delivery of her first Land Rover shortly before coming to the throne in 1952

– and continues to use Land Rover to this day.

According to a CNN article

, the Queen learned to drive in 1945 when she was a member of the Auxiliary Territorial Service (ATS) where she trained as a mechanic and military truck driver.

There were three=ish iterations of Land Rover prior to it officially being named the Defender:

Series I launched in 1948 at the Amsterdam Motor Show
Series II launched in 1958 sporting an enlarged Petrol Engine (2.25 liter engine)
Series IIA launched in 1961
Series III launched in October of 1971

the 1,000,000 Land Rover was built-in 1976
The Defender is officially launched in 1990
2015 was termed the 'Year of the Defender by Land Rover" which included 1km-wide sand drawing (below) of the original Land Rover shape on the beach at Red Wharf Bay in Anglesey; the launch of three new Limited Edition Defenders; and the recreation of the Series I production line at Solihull.
The 2020 Land Rover Defender is the first production Defender in 23 years.
The new Defender was tested within temperature ranges of -40°F to 122°F for over 750,000 miles in 45,000 individual tests
the new Defender has a massive towing capacity of 8,201 pounds (great for an off-road road trip)
There is a 2,573 piece Lego version titled Land Rover Defender. This is a part of Leo's Technic kits and retails for $199.99.
the New Defender 90 is about 9 inches longer (wheelbase) than the original Defender 90, and 5 inches longer than the 2020 Jeep Rubicon
---
What else do you want to know about the new Defender? You can reach out to our team at Jaguar Land Rover DFW and now, Jaguar Land Rover North Austin on our website and by sending us a message on Instagram (@parkplacetexas).
1300 E State Highway 114
DFW Airport, TX 75261
Jaguar Land Rover North Austin
13910 N FM 620
Austin, TX 78717