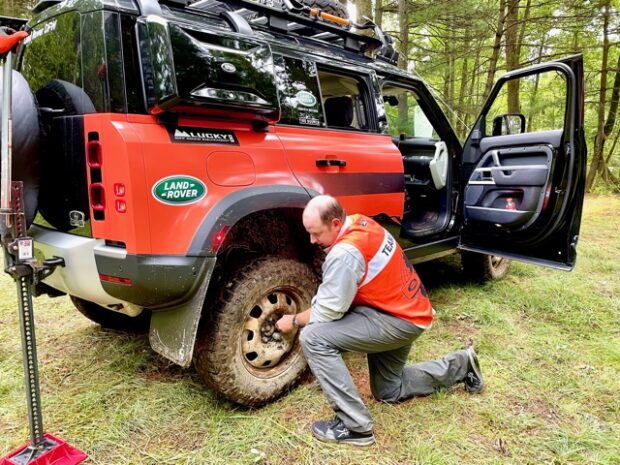 Park Place Land Rover DFW members Cade Mannetti, new car sales manager, of Frisco; Jeff Boyd, parts department, of Little Elm; and Jeff Kersh of Richardson, diagnostic specialist, recently participated in the 2021 Land Rover TReK event at The Biltmore Estate in Asheville, North Carolina, one of Land Rover's four North American Experience centers.
"This was our first experience as a Trek team," said Cade Mannetti, "and we were proud to represent Park Place in a grueling set of mental, physical, and driving tasks. A Top 10 finish was a remarkable reward after working as a team covered in mud, drenched by rain, cold and tired with the incredible backdrop of the Biltmore Estate."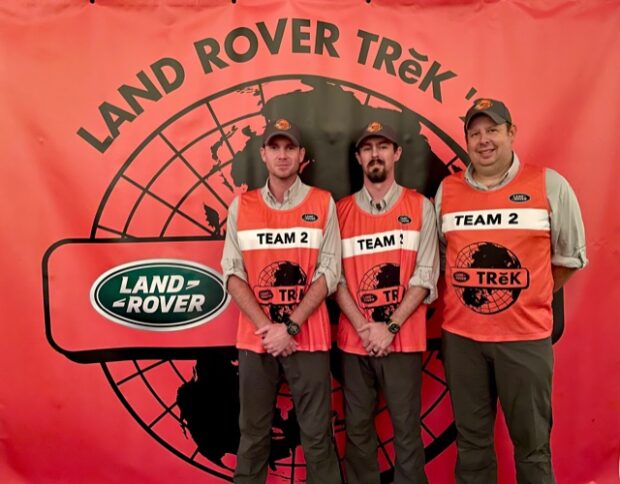 The Land Rover TReK 2021 was a multi-day event comprised of 70 teams from Land Rover retailers across the country. Each three-man team drove a 2022 Defender 110 SE P300 with a 4-cylinder gasoline engine across rugged terrain while executing a series of off-road driving events, navigation games, and team challenges.
"We had to pitch our own one-man tent in an open field next to the Biltmore vineyards," Mannetti explained. "I slept fully dressed in preparation for a 4:30 a.m. wake-up. With it raining overnight, it wasn't as comfortable as staying in the Biltmore Hotel and not much sleep was achieved before an exhausting full day of challenges."
The teams started off on foot, racing a quarter of a mile carrying their gear to receive the coordinates of where their vehicle was hidden on the 8,000-acre estate.
"Using a handheld GPS unit, we hiked over hills and through the woods to find our vehicle," continued Mannetti. "There were 15 tasks set up around the estate, all plotted on a crude map with GPS coordinates. One of the biggest challenges was navigating the maze of trails without getting lost or backtracking. The full week of rain made the clay turf as slick as ice and paths were often submerged in muddy water and deep mud-filled ruts."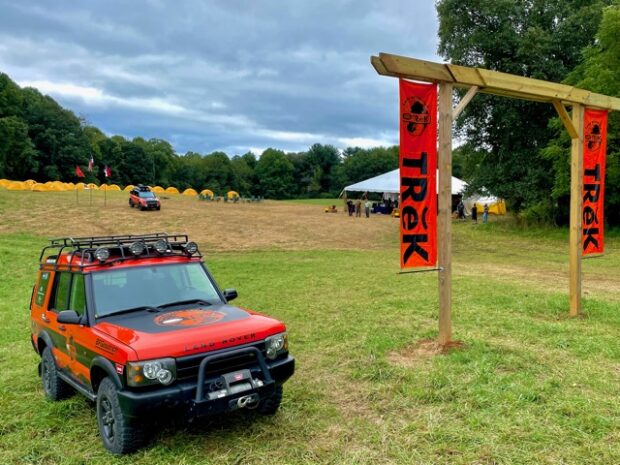 Challenges were both mental and physical, including building a wooden bridge over raging water. The most grueling task was constructing a hand-operated winch using the hi-jack, tow straps, and chains to leverage the 6,000-pound Defender backward up a slick, muddy hill for a full two car lengths… less than an inch at a time. Mannetti stated the challenge took a full hour and drained the team of everything they had.
The last challenge of the day involved a search through the woods on foot in overgrown thorn bushes and vines to find three clues leading the team to disassemble a part of the Defender to find a password to complete the task. During this time, the temperature had dropped significantly and it was pouring rain for a solid 45 minutes, said Mannetti.
Some of the terrains across the course seemed impossible for a vehicle to pass through, but Mannetti reports the Defender made easy work of everything they encountered.
"Clay-like mud is unpredictable. Even a 4-wheel-drive vehicle can slide off a trail and rollover. But whether we were on wet grassy slopes, loose rock, submerged in water, or clawing our way through muddy ruts, the Defender never hesitated. The Land Rover Terrain Response system worked its magic, and the surround cameras allowed us to see in front of the vehicle as well as what our tires were encountering. The Defender is the most capable production SUV on the road while keeping us in refined comfort in the cabin."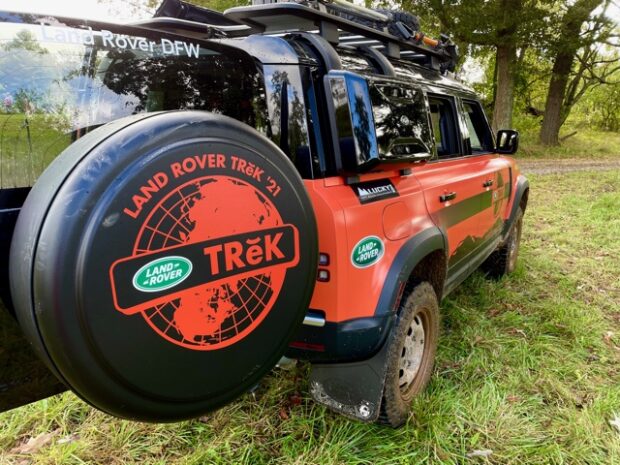 Give the experience and lessons they learned from this challenge, Mannetti and the team say they hope to compete again next year.
Park Place Jaguar-Land Rover DFW is located at 1300 E. State Highway 114 in Grapevine.
Park Place Dealerships was founded in 1987. For the past 34 years, the company has been engaged in the community through its support of the arts, medical research, children's advocacy, and education. Park Place Dealerships employs more than 1,400 members and operates two collision centers, an auto auction, and eight full-service dealerships representing luxury brands including Lexus, Mercedes-Benz, Porsche, Volvo, Jaguar, Land Rover, and Sprinter Vans. For more info, visit parkplace.com.