TCU Alum and Super Fan Experienced CFP Championship with Son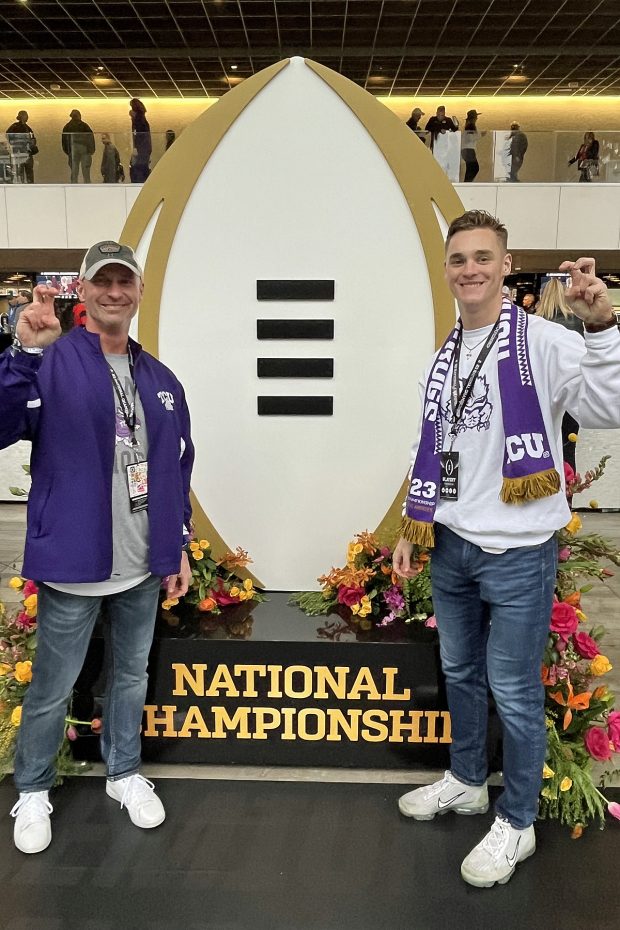 A TCU alum and former football player, Bedford invited Park Place client DJ de Jesus, president of the Fort Worth – Mercedes-Benz Club of America. Bedford also invited his 20-year-old son Reece Bedford, a U.S. Marine stationed at Miramar Air Station in San Diego.
"I flew to San Diego to meet up with Reece and we drove up to LA together to go to the game," said Bedford. "My son has grown up as a fan of TCU. We went to Nebraska to watch TCU in the College World Series back in 2016. The last TCU Bowl game we attended together was the Alamo Bowl in 2017 when they defeated Stanford. I was extremely excited to go to California to support my Frogs, but even more excited to have time to spend with my son. We have always bonded over our love for TCU and I'm sure we always will. Go Frogs!"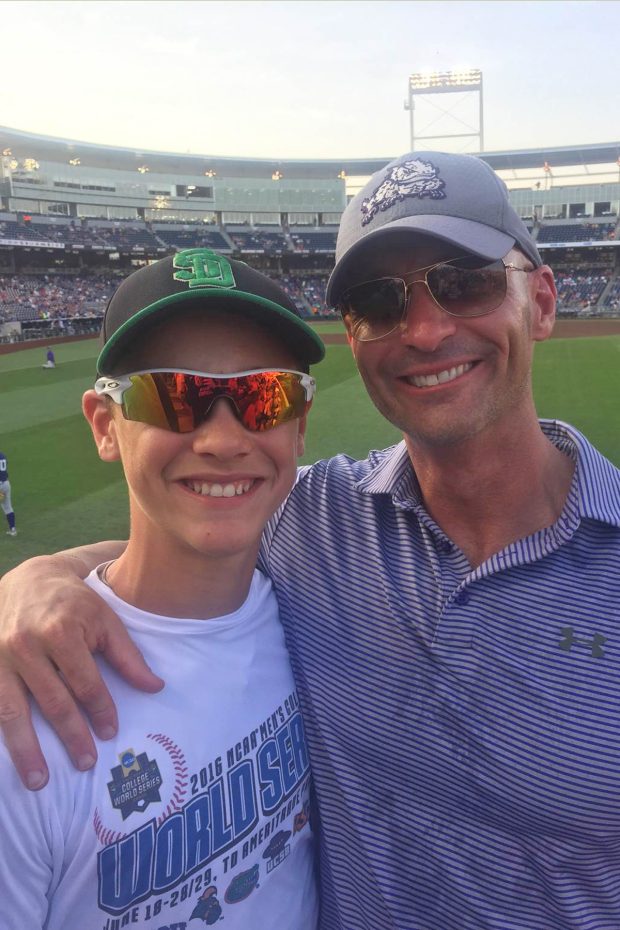 Bedford was born in Fort Worth, then moved all around Texas before ending up back in Fort Worth. He played football at L.D. Bell High School in Bedford, Texas, where he graduated in 1995. He was a quarterback at Bell and moved to wide receiver at TCU, where he walked on to play for the Frogs in 1997 – 98.

"My roommate at TCU also graduated from Bell," he explained. "Eric Anderson was strong safety and one of the best players on the TCU team. It was our senior year and Eric was projected to be selected in the NFL draft after our season. One day in practice he was rushing the quarterback when he jumped up to deflect a pass. The running back blocked him, flipping him over, and Eric landed on his head. They took him to the hospital for x-rays, put him in a neck brace, and sent him home. I was with him at our apartment when he received the call from the doctor. I will never forget the look in his eyes when they said he would never play football again. He had surgery and had to wear a halo for the next six months. He didn't have any local family, so I helped care for him."
While the Georgia and TCU National Championship game didn't exactly turn out the way TCU fans had hoped, Bedford enjoyed the trip and the game very much.
"I was very proud to see the turnout of TCU fans at the game," he said. "There was just as much purple in the stands as there was red, if not more! It was exciting to see the support TCU fans brought and how loud they were to support our team."
"In addition to Reece, I have a daughter Kenidi who is 19, and a two-month-old daughter Charlotte Sophia. Being a father has been so great that I decided to give it another run with my wife Lucina."
Nolan joined Park Place Dealerships in 2008. He became New Car Sales Director at Motorcars Fort Worth in 2019. Park Place Motorcars Fort Worth is located at 5601 Bryant Irvin Road, just south of I-20.
Nolan and Eric are still best friends. "Eric was actually just here at the dealership getting his Mercedes-Benz CLS serviced earlier this week."

Park Place Dealerships was founded in 1987 and has been engaged in the community through its support of the arts, medical research, children's advocacy, and education. Park Place employs more than 1,400 members and operates eight full-service dealerships representing luxury brands including Acura, Lexus, Mercedes-Benz, Porsche, Volvo, Jaguar, and Land Rover. Park Place BodyWerks Collision Centers in Fort Worth and Dallas, and the Park Place Auto Auction, round out the company's offerings. Park Place was acquired in 2020 by Asbury Automotive Group, Inc., a Fortune 500 company headquartered in Duluth, GA. For more information, visit parkplace.com.