As iconic as tea and crumpets, Land Rover's revered Defender debuted in 1948 and instantly established itself as one of Britain's MVEs (Most Valuable Exports). Indestructible and indefatigable, the boxy 4×4 was finally retired in 2016, much to the chagrin of SUV aficionados everywhere. (It's been gone from American markets even longer – its lack of safety features prohibited its sale in the U.S. from 1997 on.)
But you can't keep an icon down. The Defender is back for 2020, chock-full of sturdy protective passenger gear as well as all the rough-and-tumble goodness that made the original such a massive hit.
Before we look forward, however, let's take a quick look back at how the legend became legendary.
The world-famous Defender wasn't always called "Defender."
In 1947, with the war over, Rover's director of engineering Maurice Wilks desperately needed a new product. Inspiration struck while he worked on his farm near Red Wharf Bay in Wales. Grabbing a stick, he scratched a design in the sand for a simple, strong, go-anywhere four-wheel-drive vehicle. Spencer, his brother (and Rover's managing director), looked at the sketch and nodded.
The Land Rover was born, christened "Series I," followed by Series II and III and then badged as model numbers 90,110 and 127 to represent wheelbase inches. Interestingly, it took 42 years for it to finally be christened "Defender," which was its moniker until retirement.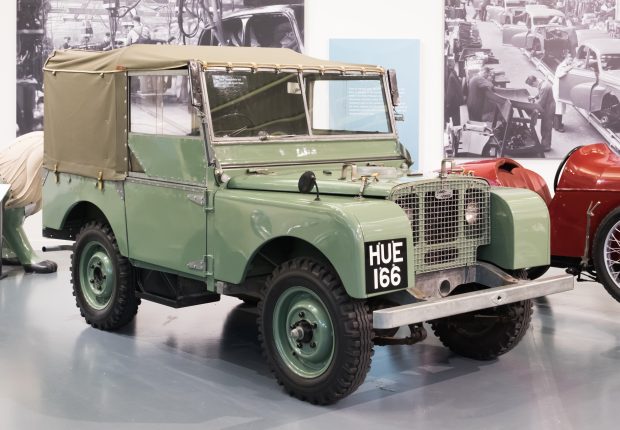 Reimagined for the 21st century
The new Defender's exterior styling carries on the original's tall, boxy look but in a much more subtle and refined manner. A nice traditional touch – the spare wheel carrier on the rear door.
Another traditional touch – the Defender comes in two wheelbases, branded as "90" and "110" designations, which actually makes no sense because they signify, respectively, a 101.9-inch wheelbase with two-doors and a 119.0-inch wheelbase with four doors. But heritage is cool, so why not?
"The new Defender is respectful of its past but not harnessed by it," said Gerry McGovern, Chief Design Officer, Land Rover. "This is a new Defender for a new age. Its unique personality is accentuated by its distinctive silhouette and optimum proportions, which make it both highly desirable and seriously capable – a visually compelling 4×4 that wears its design and engineering integrity with uncompromised commitment."
While the interior isn't so spartan that you can hose it down like the old Defender, it's surprisingly austere, more so than other Range Rover models. That's not to say there aren't luxury touches – carpet floor mats offer a premium look and feel but are easily removed to reveal durable flooring beneath. Hey, this is the Defender and it's got tradition to, well, defend.
Toughness and durability
This new Defender is built for climbing mountain roads. Two engines are available (depending on the choice of trim level): a "mild-hybrid" six-cylinder with an electric supercharger cranking 395 horsepower and 406 lb-ft of torque, or a 296-hp turbocharged four-cylinder. The eight-speed ZF automatic transmission is standard, as is permanent all-wheel drive with an electronically controlled front axle coupling to send torque forward. There's also a two-speed transfer box for off-roading and towing (it'll haul up to 8,200 pounds).
And this is so cool and brilliantly Land Rover – the Terrain Response system includes a Wade Sensing program that detects when you're fording big water and automatically softens throttle response, sets the heating and ventilation to recirculate cabin air, locks the driveline and adjusts the ride height to its maximum off-road setting of 35.4-inches. For the mathematically challenged, that's nearly three feet of clearance!
But wait, there's more. The Wade Sensing screen on the infotainment system lets occupants observe the depth of water under the vehicle and say hi to their fishy friends. As if that's not enough, when the Defender leaves the water, it automatically drags the brakes for a moment to clean and dry the discs.
Availability
Prices start at just over $50,000 to more than $80,000 for the 110 model, with spring deliveries. Six models are available: Defender, Defender S, Defender SE, Defender HSE, Defender X and Defender First Edition.
Customers can also select from the widest range of accessories ever produced by the Land Rover brand, including a choice of four Accessory Packs: Explorer, Adventure, Country and Urban.
---
Get yours at:
Park Place Jaguar Land Rover DFW
1300 E State Hwy 114, Grapevine, TX 75261
(972) 295-9783
Park Place Jaguar Land Rover North Austin (Opening 2020)
13910 FM 620
Austin, TX 78717