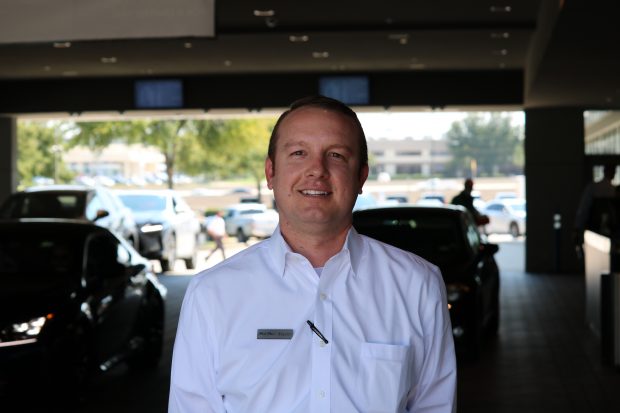 It's been said, usually tongue-in-cheek, that you can choose your friends but you can't choose your family. But in the case of Colleyville native Travis Tittle, his friends ARE his family. And as an added bonus- his coworkers too!
"My step-dad and younger brother both work here," he beams. "Dad's a team lead and Joseph is in the parts department. "Practically every day when we get back from lunch, we hang out. It's great."
Tittle graduated Colleyville Heritage High School (Go Panthers) and spent a few semesters at Fort Lewis College (Go Skyhawks) amid the magnificence of Durango, Colorado. He came back home and immediately entered the automotive industry, serving in a variety of roles at several dealerships before signing on to join the parts department at Park Place Lexus Grapevine in 2004. He worked his way up from the warehouse to back-counter, then front counter, then Assistant Service Manager, and then began his current role as Service Manager seven years ago. It's a high-velocity role and he relishes every second of it.
"I'm one of two service managers here and on average, we see about 150 vehicles a day," he says. "Basically, my job is to make sure each of those clients is well taken care of, and to help move the vehicles through the shop. It never stops, really, and that's what makes this job so much fun."
The role occasionally offers other "amusements," such as rescuing hidden kittens and other assorted wildlife. But the topper has to be when a tech opened a hood to examine what was initially suspected to be rodent damage.
"Normally, our shop functions like a well-oiled machine," he says now, chuckling at the memory. "But we spent about 30 minutes trying to fish out a five-foot-long snake, and it seemed like the whole shop was freaking out a little. It was probably the most intense half-hour we've all ever spent at work."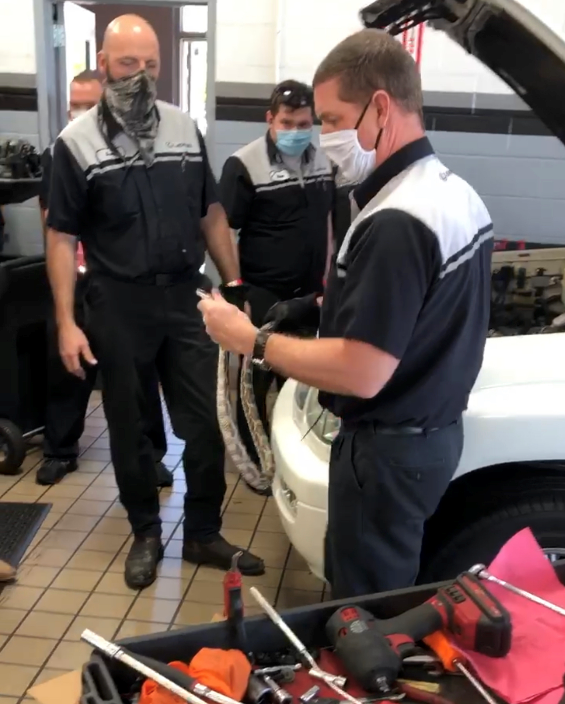 The snake was rescued, uninjured, and taken to a local creek to join his friends, much to the relief of the service team and, presumably, the snake.
Other moments, however, are much more serious, such as the time when Tittle and several co-workers were driving to Austin and by sheer coincidence, witnessed a severe collision involving a Park Place Lexus client.
Lexususa shared the story on their isntagram in November of 2019:
How do you make a customer feel like a guest? Lexus owner Joyce Lee was involved in a head-on collision on I-35 in Fort Worth, TX that totaled her Lexus. Greg Duerr, Rod Moreno and Travis Tittle of Park Place Lexus were nearby and helped Joyce to safety inside their own vehicle. They then aided as witnesses to the accident. As Joyce put it in her letter to the dealership, "These outstanding men took Park Place's above-and-beyond reputation to a higher level, in that they stopped to help render aid to me after my head-on collision." The hospitality and empathy of Lexus dealers and their employees extends beyond the dealership.
"That was really frightening," says Tittle. "I'm just glad we were there and could help."
He says the episode speaks to the Park Place culture as a place of camaraderie unlike anywhere else.
"We all get along extraordinarily well," he says. "In fact, we hang out with each other after work. And in my case, since I've been here so long, our kids are also hanging out with each other, too. That's very rewarding."
In his spare time, you can find him and his wife, Vanessa, chasing after their two extremely active kids – three-and-a-half-year-old Trenton and one-and-a-half-year-old Tessa, at their Colleyville home. "I met Vanessa in middle school and I guess you could say it was love at first sight," he confesses.
He also enjoys pursuing mostly outdoor activities – golf, hiking, sports of all kinds. "I grew up playing a lot of soccer and hockey, so if it's physical, yeah, I'm trying to do it."
He acknowledges that in terms of his direct, all-business demeanor, he might initially come off as a little brusque. "But really, I'm nicer than I initially seem to be," he laughs. "When people first meet me, they think I'm sort of mean. But once they work with me for ten years or so, I'll lighten up … a little bit!"