On Nov. 12 the holidays came early for more than 110 Plano ISD teachers, counselors and librarians as together they received a total of $125,000 in educational grants.
Grants to Educators, a program of the Plano ISD Education Foundation, graciously provides funds to Plano ISD educators each year ranging in value from $250 to $1,500. Teachers, grades or entire schools had the ability to apply for these grants which will financially support projects that demonstrate instructional excellence.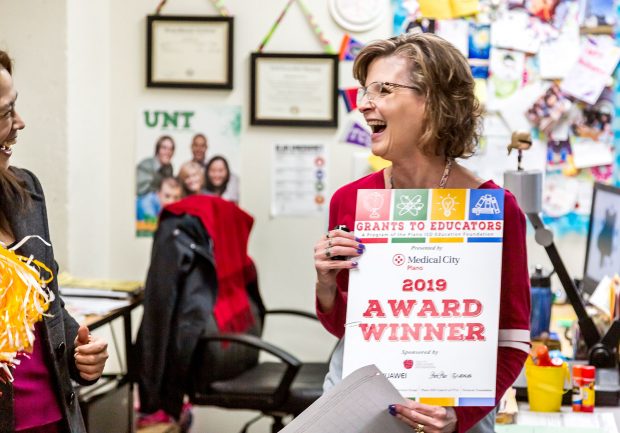 The Plano ISD Education Foundation is a nonprofit organization with a mission to support Plano schools and educators. Since 2000, almost $17 million has been gifted to Plano ISD by the Foundation to enhance scholastic learning and recognize deserving educators.
"Programs like Grants to Educators is what the PISD Education Foundation is all about. As we surprised each teacher on their campus today, you could see the excitement and passion these educators have for their students. We are Plano ISD Proud," said Jamee Jolly, Plano ISD Education Foundation Sr. Executive Director.
For more than seven years, it has been a Park Place tradition to spread holiday cheer by gifting these grants to deserving educators. PISD is just one of four amazing districts that we partner with. The others including Coppell ISD, Southlake ISD and Rockwall ISD. But one thing that always stays the same is everyone piling into Park Place vehicles and heading out to different locations to find the lucky recipients.
"The Grant Patrol truly is a highlight for our team members. Not only do we get to support the teachers, but we also are able to give back our time and see our dollars in action. It's such a moving day and we are thrilled to be a part of it," said Anam Ali-Hashambhai, Park Place Dealerships Experiential Marketing Manager.
As a company, we strive to support and empower our team members to improve the quality of life in the communities where we do business. Grant Patrol is just one of the many ways that #ParkPlaceCares.