Member Spotlight: Greg Cinicolo, Body Shop Manager at BodyWerks Fort Worth
Westchester County in New York is well-known for its quaint villages and picturesque towns as well as open spaces and a network of beautiful parks. But Hells Angels? Yep. And at just five years old, Greg held the flashlight while his dad repaired the members' Harleys from his garage in small-town White Plains.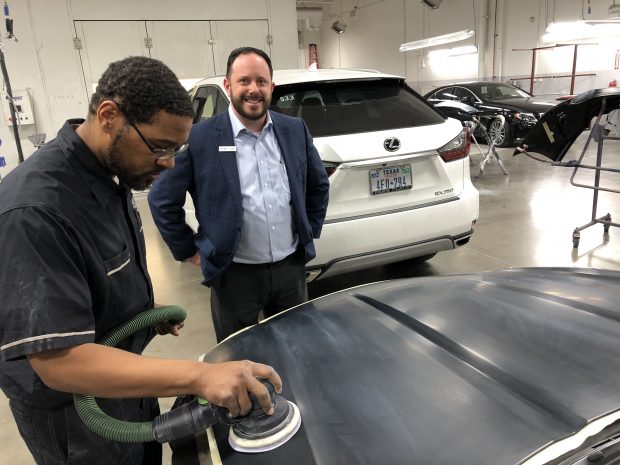 "They'd babysit me," he laughs. "Dad restored motorcycles and cars as a hobby and I'd pass him wrenches and other tools. The bikers took a shine to me and I remember having a blast. In fact, one of dad's buddies is Chuck Zito, the actor from the HBO prison drama "Oz," who was president of the New York Hells Angels chapter!"
Clearly, the apple doesn't fall far from the tree – Greg's always been into cars and motorcycles. His family moved to Texas in 1984 and at 16, he went to work at a Chevrolet dealership and never looked back. "I even read books about body shops and repairs. For fun! I'm totally boring."
Greg Began at Park Place in 2011
Greg began his Park Place career in 2011, serving as an estimator at Grapevine BodyWerks for six and a half years. He's been in his current role, shop manager for BodyWerks Fort Worth, for almost three years and oversees 22 members as they go about their daily operations, which include everything from major to minor structural repair, paintless dent repair (PDR), paint and bodywork … and in several cases, even animal rescue.
"We're not surprised by damage from floods and hailstorms," he says. "But animals are another story. A client came into the Lexus service department with a hawk trapped in the vehicle's grill. But they saved the hawk! Another time, raccoons made themselves at home in a vehicle. They were still in there by the time we got the vehicle, so that was a job for sure."

It's a Science…and an Art
One of the more challenging aspects of vehicle repair is also one of the industry's oldest and most vexatious – paint-matching.
"It's a science as well as an art," he says. "Modern paints are all water-based acrylic polyurethane enamels and very durable, but UV rays are terribly destructive to any kind of paint and actually change the color. Vehicles with clear coat, basically a pigment-free paint, suffer much less UV damage than those without it and make matching much more precise."
Fortunately for owners, Greg says that the BodyWerks members have all the necessary technical certifications and industry experience to make things right. They also have another essential ingredient – artistry.
"They're really artists," he says proudly. "They view these vehicles as their canvas. And day in and day out, they prove their gifts. It's an honor to work with them."

Protect your Paint!

His advice to owners – take care of that clear coat. "Savvy owners know to wash the surface thoroughly, then polish the paint, then wax the polish. That protects the clear coat, which protects the paint. If you don't have the time, we'll do it for you. It's a great investment to keep your vehicle pristine."

Family First
It's clear Greg is not only passionate about his profession, but he's well-equipped to run this full operation. But while it might be hard to imaging, restoring vehicles to their "before wreck" condition isn't his only focus. In fact, his priority is now his family.
"These days, my hobbies have less to do with repairing motorcycles and more to do with family," he adds. "We have three girls ages 10, 8 and 3, so we basically live in our backyard. But none of them are holding flashlights and wrenches for me – yet!"

---
For more information on how to join the Park Place BodyWerks team or to book a free estimate visit us at www.ParkPlaceBodyWerks.com