The first thing you notice about Lorien Lippen is her extraordinary energy in her 10-million-megawatt smile, her lively banter, and the intensity of her gaze – when she focuses on you, she's focused on YOU.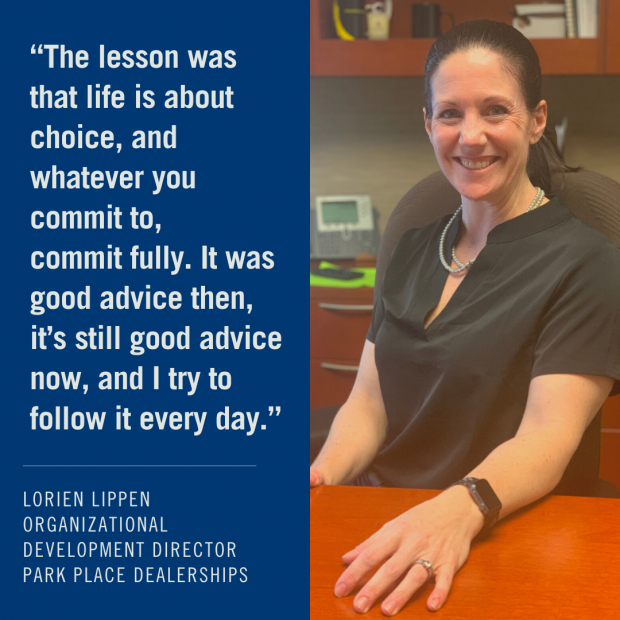 ---
All About Foundations
She brings this engaging magic to all Park Place University programs, like "Foundations," the weekly onboarding experience that welcomes brand-new Park Place team members. In a room full of new members, she quickly, and genuinely, puts everyone at ease. Within minutes, the once-perfect strangers are interacting cheerfully as she guides the group through the program's various modules and activities.
All programs are created by the Organization Development team, the six-person department she leads, and align with Park Place's culture, values, and business goals.
"Our team's core focus is to deliver extraordinary learning experiences that make Park Place, My Place, for all members," she explains. "We provide a deep, welcoming experience to all new members through "Foundations," and reinforce the importance of our client experience through more specific training such as the 'One Touch' sales program for Sales Experience Managers, the 'Service Experience' for Assistant Service Managers and the 'Valet Experience' for Service Valets. It's about providing the best programs to meet the members' needs and lead to extraordinary client experiences."
A Force of Good for Park Place
Simply put, Lorien Lippen is a force of nature. And fortunately for Park Place, she's been our force for good since joining in July 2018. Why did she venture into this field of learning, development and coaching?
"I was often the student helping the others in my classes. Working with someone on a challenge, and then watching them find their way through it is truly rewarding," she says.
Knowing her passion before leaving high school, she went on to receive her M.Ed. in Curriculum and Instruction from the University of Cincinnati, and went on to help others pursue their own excellence and passion with such notable companies as NBCUniversal, Creative Artists Agency, DIRECTV, American Honda Motor Company and The Walt Disney Company.
All that magic might explain her multiplicity of certifications in skill-based development programs that encompass leadership development, executive coaching, change management, performance management, succession planning, talent review, and competency modeling, just to name a few.
A Little Personal
On the personal side, she admits to being somewhat of a bookworm and devours novels like "Goldfinch" by Donna Tartt, "All the Light You Cannot See" by Anthony Doerr and "Pride and Prejudice" by Jane Austen.
She and her husband Ryan also get a huge kick out of the film "Monty Python and the Holy Grail." "Endlessly funny," she says. They pair it with her favorite comfort food – "Homemade pizza with pepperoni, black olives and mushrooms! Absolute heaven, I could eat it every day."
A trained classical pianist, she relaxes by playing favorites – favorite composers include Tchaikovsky, Rachmaninoff, and Chopin – and credits her high school music theory instructor, Mr. Lassaine, with teaching her an important life lesson she still lives by.
"I was being overly disruptive in class, and he pulled me aside to ask what was going on," she confesses. "I began complaining about how early I had to wake up and the long commute. And he looked me in the eye and said, 'Hey, you earned your spot, but if you don't want it, somebody else will gladly take your place. So you need to choose if you want to be here, otherwise you're wasting my time and yours.'"
"I was a little shocked but he was right," she admits. "The lesson was that life is about choice, and whatever you commit to, commit fully. It was good advice then, it's still good advice now, and I try to follow it every day."