Cattle Baron's Ball Kicks off Raffle Ticket Sales at Porsche Dallas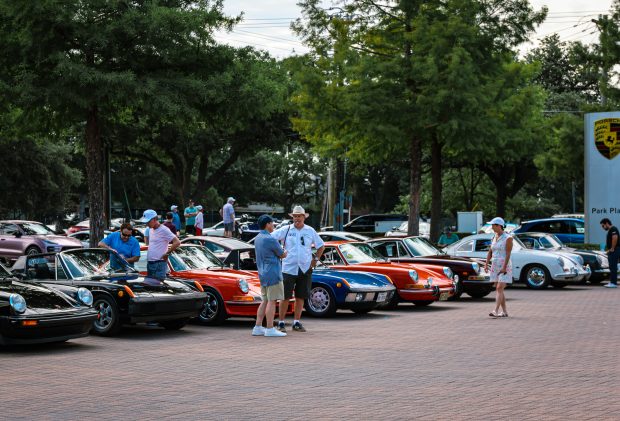 On June 10th Park Place Porsche Dallas celebrated Porsche's 75th anniversary with the full spectrum of color and a symphony for the senses. Porsche Club North America – Maverick Region members brought out a vast array of eye candy with gleaming examples of Porsche's history, from 1950s models such as a Porsche 356 to modern sports cars that are just at home on the street as on the track.
"It was wonderful to celebrate the heritage of Porsche with so many enthusiasts at Park Place," said Tony Carimi, Park Place Dealerships Managing Director. "Porsche is an iconic brand that was inspired by one man's dream to create the ultimate sports car. For 75 years, Porsche has combined tradition and innovation to bring fascinating designs and trailblazing technology to life. I imagine Ferry Porsche would have loved the sea of spectacular Porsches in a rainbow of colors and styles and listening to guests recounting stories about their shared passion."
The celebration attracted nearly 500 enthusiasts who honored the legacy of Porsche and supported the local community.
"It was great to see so many of our friends gather to help us celebrate our love for everything Porsche," said Patrick Huston, Porsche Dallas General Manager. "It also served as an opportunity to give back to our community by supporting the Cattle Baron's Ball in their efforts to fight cancer. Committee members sold raffle tickets for prizes that included a choice of a luxury vehicle from Park Place Dealerships valued at $60,000."
The 50th Annual Cattle Baron's Ball will be held October 14th at Southfork Ranch featuring Country Music star Shania Twain. Since 1974, Cattle Baron's Ball has raised more than $93 million for cancer research. It is the world's largest single-night fundraiser for the American Cancer Society. More information on the exciting event, including details on how to purchase raffle tickets, is available at cattlebaronsball.com.
The artist Hatziel Flores created a live painting of a Porsche 911 in a full spectrum of color. At the end of the day the painting was auctioned off to benefit the American Cancer Society. Congratulations to Justin M. Ramirez, MD, for being the high bidder.
During the 75th anniversary celebration of Porsche, guests enjoyed tasty bites from the Original ChopShop and delicious quesadillas and tater tots by the Cheddr Wheel Food Truck. Frios gourmet popsicles in a variety of flavors were a very popular and tantalyzing treat. Lakewood Brewing supplied refreshing craft beers while guests enjoyed specialty cocktails from Herradura and Woodford Reserve. Inside, people relaxed in the deBoulle Lounge, while others watched the Le Mans race in a special viewing area.
A popular and fun attraction throughout the event was "Lip Readings." Guests would apply fresh lipstick, then press their lips against a white card and a Lipsologist would analyze the lines of and the shape of the lip prints to reveal character traits.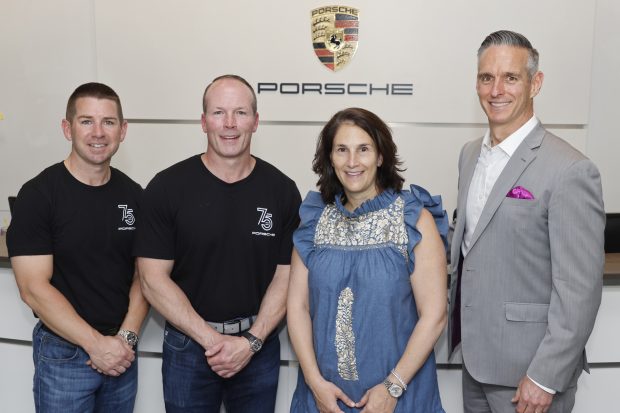 Park Place Dealerships was founded in 1987 and has been engaged in the community through its support of the arts, medical research, children's advocacy, and education. Park Place employs more than 1,400 members and operates nine full-service dealerships representing luxury brands including Lexus, Mercedes-Benz, Porsche, Volvo, Jaguar, Land Rover, Acura, and Sprinter Vans. Park Place BodyWerks Collision Centers in Fort Worth, Dallas, and Plano and the Park Place Auto Auction, round out the company's offerings. Park Place was acquired in 2020 by Asbury Automotive Group, Inc., a Fortune 500 company headquartered in Duluth, GA. For more information, visit parkplace.com.