Robert Morris loves tacos. So when south-of-the-border cuisine graces the dealership's quarterly Team Park Place luncheon menu, he's a happy guy. Even if he IS always last in line and the lettuce is wilting.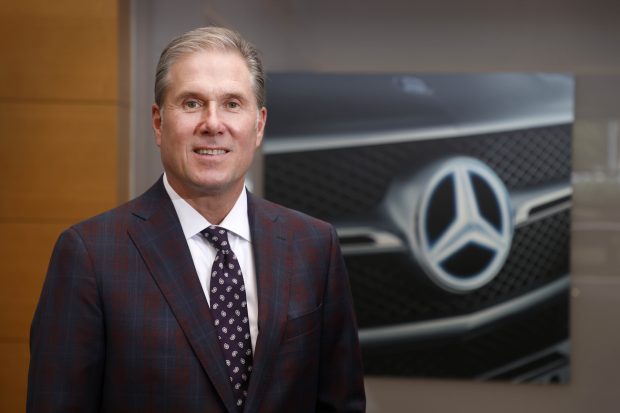 That's because his favorite part of the event – more than the tacos, which is saying something – is recognizing fellow team members.
"Team Park Place luncheons are a tradition across the company," he says. "It's our time to share camaraderie and recognize achievement. Recognition is huge. We're all one team, pulling in the same direction – to provide exceptional client experiences – and every single person here deserves our respect for what they do to make that happen."
During the luncheons, he visits every table, greets everyone by name and thanks them for the great job they're doing. Then he's at the front of the room, mic in hand, honoring above-and-beyond performance. He's particularly fond of service anniversaries, which are remarkably long at this flagship store (as they are throughout Park Place). Out of a total 345 team members at their store, 52 have been with the company for 10-15 years; 40 have tenures of between 15 and 20 years; 16 have logged between 20-30 years; nine have served 30 or more years, and two people have been with the company for more than 40 years.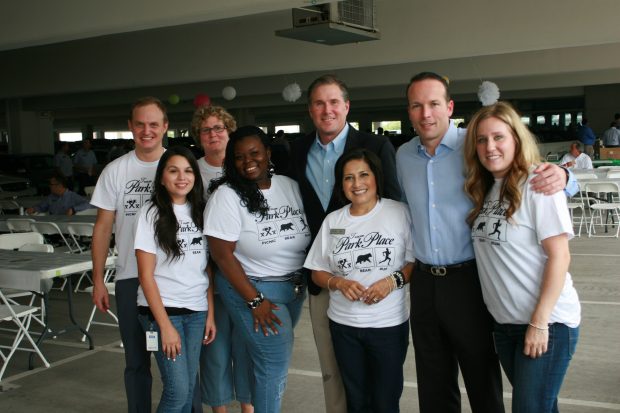 His own longevity is a case in point – 2021 marks his 30th anniversary with Park Place.
"Clearly, we're doing something right," Morris smiles. "Great people, great brand, great vision."
His path to the automotive industry was circuitous as well as fortuitous. Raised in Livermore, California, his family moved to Bedford, Texas, when he was in seventh grade. And while most teenagers might have balked at such a drastic cultural dislocation, Morris welcomed it.
"I was into sports and attended Trinity which had, and still has, a great soccer team," he says. "So I engaged with the community right away and the transition was easy. Go Trojans!"
A little digging uncovers the fact that, as team captain, he led them to numerous tournament championships, which speaks to an early flair for his refreshingly humble leadership style. Around the same time, he and a buddy started a landscaping business and sweated out a few Texas summers. A client suggested he might enjoy a much cooler job (literally and figuratively) in the automotive wholesale industry.
"I started as a porter and general go-fer, then learned how to do appraisals and look critically at paintwork and mechanical conditions," he says. "Then I hit the road driving high-line cars all over the country and attending auctions from New York to California and everywhere in between. It was great fun to take side trips to visit national parks and watch the seasons change. Great experiences."
One of his most favorite customers – Park Place Motorcars Dallas.
"I'd buy used vehicles off the backlot and saw right away that Park Place was a really good company with great people," he says. Friendships with team members led to a job offer as a pre-owned sales consultant in 1991. He took the leap and never looked back.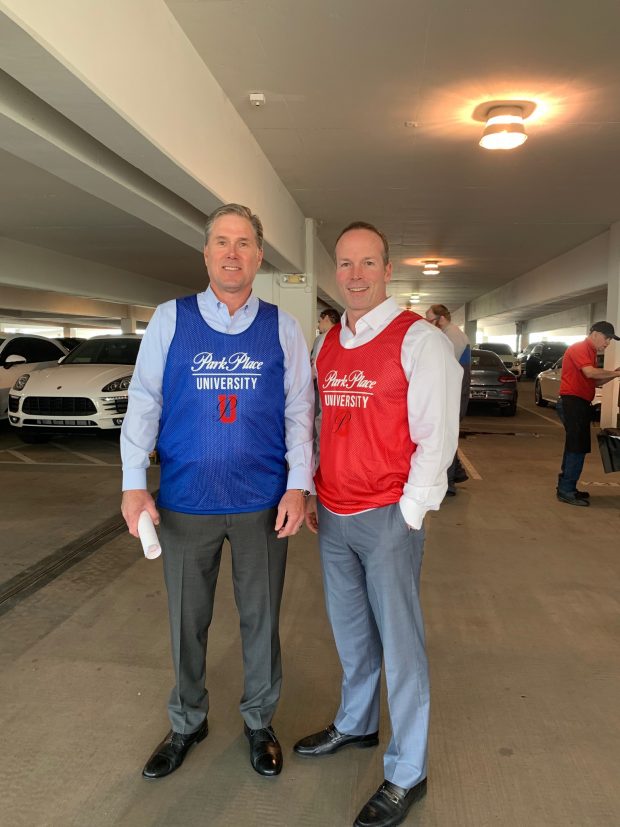 His motivation was personal as well as professional, since he'd also taken the leap into marriage in 1989. "Being gone three weeks out of every month was a challenge, so the stability of Park Place was ideal," he says.
He rose through the ranks, becoming pre-owned manager in 1994 and in October 1999, transferred to the Bedford store where he was named GM in 2000. In 2005, he was named GM of Park Place Motorcars Dallas, the company's flagship facility.
"Frankly, we all wondered how we were going to fill up this massive 11-acre area," he laughs. "But it wasn't too long before we were looking for more space, so I guess we were doing something right."
Mercedes Benz certainly thinks so. The manufacturer has given their coveted "Best of the Best" award to the store an astonishing 13 times. Morris notes that Covid-19 has resulted in the program's suspension, but promises that "when they crank back up, we'll get back on track."
He's confident of success because his business management philosophy is simplicity itself.
"It's a cliché, but it really is all about the people," he says. "I've always felt that I needed to surround myself with people who are smarter than me, people who inspire and make everyone better. I think we've done that."
He attributes that same philosophy to his marriage. "Dana definitely makes me a better person," he cheerfully admits.
They share similar interests in anything outdoorsy, including yardwork, where his prior experience as a landscaper comes in quite handy. They're also proud parents to two rescue Labrador Retrievers (their third and fourth). And they're avid hikers at Texas' Big Bend National Park and – before the pandemic – went on what he calls "a dream trip" to southern Alaska's Chugach Mountains. In fact, they're planning a getaway to Palo Duro Canyon soon, where he'll unpack his trusty Nikon (a Christmas gift from Dana) and indulge a passion he developed nearly 10 years ago – photographing nature.
"Birds, lizards, rabbits, deer, anything really," he says. "The idea popped into my head and now I'm hooked. What's really interesting is that you never know what you've got until you pull them up on the computer and then it's like a big discovery." (Hint – more Dana pics.)
Which brings us to their "meet-cute" story.
"Back in 1985, I played on a league soccer team in Bedford sponsored by a local restaurant," he recalls, "and we'd head there after games and practices. One night, this really pretty waitress came out the kitchen door with a loaded tray. Our eyes met and she took an involuntary step back. I was speechless and told the guys, 'I think she's the one.' She told several other waitresses, 'I think he's the one.' We talked, then talked some more and that was it for both of us. Kind of crazy but true."
Thirty-two years later, they're still going strong.
Which brings us back to the Team Park Place luncheon. As the event winds down and members head back to their respective responsibilities, Morris has a few moments to reflect on a quote about business leadership that he greatly admires:
"Your ability as a leader will not be judged by what you have achieved personally, or even by what your team accomplished during your tenure. You will be judged by how well your people and your organization did after you were gone. Your lasting value will be measured by succession."
John C. Maxwell
"It's about leaving a stronger set of people in your wake," Morris says. "If I can help build that, then I'll have done my job. Not that I'm going anywhere anytime soon," he adds with a chuckle. "After all, the tacos are calling!"