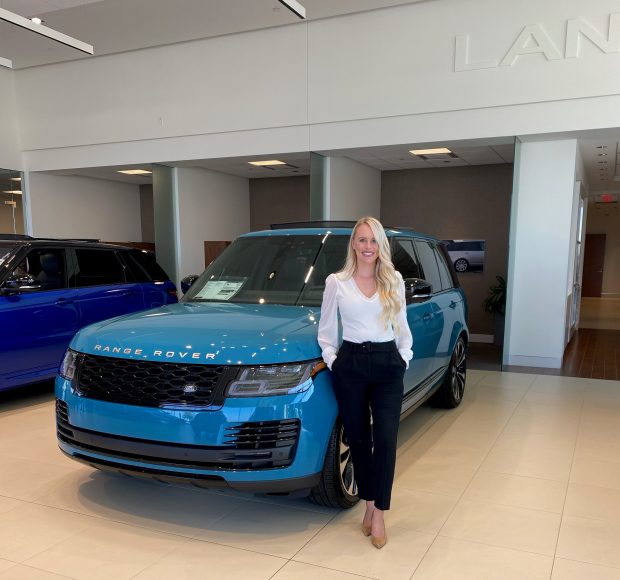 "Even though I pretty much grew up around cars, being in the business wasn't part of my plan," confesses Sydney Archer, Sales Experience Manager (SEM) at Park Place Jaguar Land Rover Grapevine. "My dad owned Nebraska's number one Hyundai dealership. When I was little, I was always underfoot somewhere and once I was old enough, he put me to work!"
Given that Archer is what's commonly referred to as a "go-getter," it was a wise move on her dad's part. She jumped right in, creating and then nurturing the dealership's online presence, as well as managing their DealerRater page (to those in the industry who know, that's a really big deal). She also pitched in with driving customer engagement numbers across a variety of communication channels and liaised across departments, gaining a broad understanding of what makes the business tick.
And that, in a word, is communication. Good thing, then, that her B.S. degree from Fort Worth's TCU (Go, Horned Frogs!) is in Communication Sciences.
"I've always been interested in literature and the theory of communications," she says. "I like knowing how to communicate with people, why we communicate the way we do and creating a feeling of hospitality to help make a person comfortable."
After graduation, she did a few gigs unrelated to the automotive industry – banking and travel – but her dad suggested that, given her wealth of industry experience, she look for something she had an affinity for. A stint at a local North Texas dealership confirmed his (once again) sage advice and prompted her to seek a company that "was as committed to exceptional experiences as I was."
Given the ubiquity of Park Place locations throughout the DFW area, she didn't have to look far. She joined in June 2019, initially serving with the internet sales group and then transitioning to the sales floor this past March – just in time for the pandemic.
That's when that "go-getter" thing kicked in yet again. Quarantine or no, she says she's having a "great year, with lots of referrals," and credits the brand strength of the two venerable British marques she represents.
Does she have any favorites?
"Jaguar's done an outstanding job of carrying through their racing and luxury heritage with the F-Pace," she says. "It's not at all typical of an SUV in that it handles more like a cool, sporty vehicle. But my personal favorite is Land Rover's Range Rover Sport. It handles unbelievably well and really turns heads. They've also just released the Defender, which looks really tough and is completely different than anything out there. It's rugged off-road but also extremely well-equipped and frankly, one of the smoothest vehicles I've ever driven."
As fun as the vehicles are, though, she admits that the best part of her job is the people – clients as well as her fellow team members.
"I enjoy meeting new people and creating lifelong relationships," she says. "Our brands are very aspirational, and it's really cool to help someone get their dream car and share how they feel when they see their hard work pay off."
"Any dealership can say they put the customer first, but Park Place really carries through," she continues. "We don't have to get permission to do the right thing. Today's buyers want a personal approach and they're not looking at me to sell them. We're all here to help clients make the right choice, with no pressure whatsoever. It's a great feeling."
She recalls one particularly memorable sale. "Remember, I'm just a kid from Omaha at heart. An internet buyer from California was looking for a very exclusive Range Rover model. At first, I wasn't really sure if this person was legit, but they'd been looking for this exact vehicle and we were the only ones in the country with it. We did the whole deal via text and phone, then sent paperwork to Ibiza where the client was vacationing, then shipped the vehicle to San Francisco. It was wild!"
Speaking of destinations, Archer is a dedicated traveler and looks forward to getting back out there. "I'm sort of a type A personality, but anywhere with a beach, red wine, a nice patio and a fire pit is my kind of place," she laughs.
Chief among her travel delights – cuisine.
"We had to cancel a trip to Cabo San Lucas, which has a great food scene that nobody knows about if you get away from the tourist areas. Believe it or not, there's a great Swiss fondue place there. And the Italian food! My boyfriend of six years makes fun of me because I say you can get the best Italian food ever right there. Lemon cream pasta is my favorite."
Pasta? How do you stay so skinny?
"Pilates!"