Spend two minutes chatting with Alycia Johnson and one thing becomes abundantly clear – her cheerful determination to do the right things right.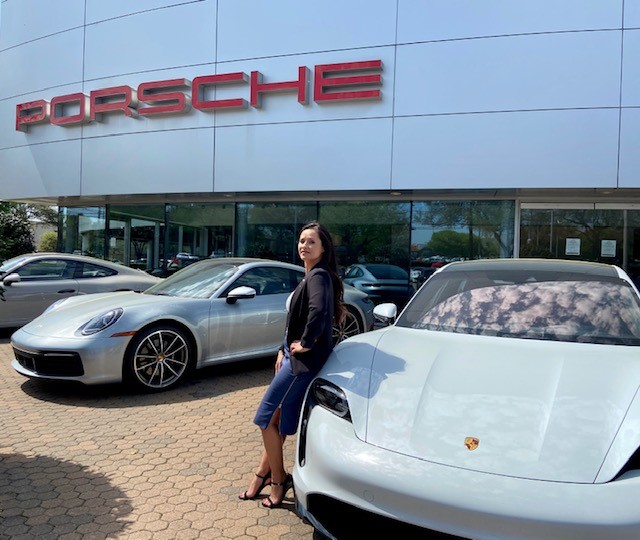 As Business Improvement Manager for Park Place Porsche Dallas, determination comes with the territory. The cheerfulness comes from the heart.
"I love training people," she says while explaining the role of a business improvement manager. "I mentor, coach and train new hires, and make sure their desktops and logins are ready to go on day one. I also make sure that our long-time members are using all the tools and techniques of our various systems and software programs to best advantage. If I do my job well, then they do their jobs well, and our business thrives. It's that simple."
She may call it simple, but there's a complex set of procedures behind what Alycia does so well. Preparation is the key, and she sets a blistering pace for herself when it comes to exceeding expectations. "I worry about the details so nobody else has to," she declares.
Welcome to Dallas
The Okinawa-born Johnson arrived in Dallas at an early age and attended W.T. White, R.L. Turner and Brookhaven College before accepting a job with aircraft leasing pioneer Flexjet. She served first as flight coordinator and then customer account manager and, after more than a decade, transferred her expertise to a successful sales role at a local dealership in 2016.
At the persistent urging of several friends who already worked at Park Place, she joined Porsche Dallas in July 2018 as a Sales Experience Manager, then moved to her current role on September 2019. "I got to Park Place as fast as I could," she laughs.
In Her Spare Time
In her spare time, she says she hangs out with pals and indulges in creative handcrafts – as a grandmother-to-be, she assembled a Star Wars-inspired diaper cake for a recent baby shower. "I can't believe I'm going to be a grandmother," she enthuses. "This is so exciting!" (Editor's Note: at the time of posting, we are happy to report that Alycia is a proud Grandmother!)
She also admits a weakness for footwear, confessing that she owns around 200 pairs of shoes. "Macy's loves me," she says with a mock groan.
She also admits to a fondness for rom-com movies like "The Ugly Truth" and "The Perfect Man," and her musical tastes run to Prince and Michael Jackson.
But what really gets her jazzed is Taco Tuesday. "I love Tex-Mex food. Tacos every day as far as I'm concerned!"
Her outlook on life is practical and courageous. "We all have personal struggles," she says. "It's important to always look at the positive side. Everything happens for a reason – the good, the bad, and the ugly, but it always passes and, in the end, makes us stronger."
---
Visit our team at Porsche Dallas in-store or online at ParkPlace.com.