The latest in Bentley brilliance is a new generation of Bentayga featuring a 4.0 liter, twin-turbocharged V8 petrol engine. The SUV's sporting character comes to life with the addition of a V8 burble (murmur), stylish twin-quad exhaust pipes, and optional carbon-ceramic brakes. Its responsive performance is fully customizable on demand by the driver through Bentley's Drive Dynamics system, from limousine-like refinement to sporting precision.
The interior resembles Bentley's distinct approach to modern luxury tailoring, featuring an elegant blend of handcrafted materials and advanced technologies. Wood and hide steering wheel options paired with a high-gloss carbon-fiber interior panel finish take the stylish Bentley Bentayga to opulent levels.
Immense Performance, Impressive Efficiency
At the heart of the new Bentayga V8 sits an all-new 4.0-liter, 32-valve, V8 engine featuring dual twin-scroll turbochargers located inside the 'V' of the engine. The dynamic unit results in a top speed of 180 mph, 0-60 mph in 4.4 seconds, and has an impressive range of 464 miles at a 24.8 combined mpg.
This refined efficiency results, in part, due to the ability of the engine to deactivate four of its eight cylinders in certain conditions without compromising the drive and adaptive Stop-Start technology. The seamless change happens in just 20 milliseconds, making it imperceptible to customers, and unrivaled in the luxury SUV market.
Striking, Individual Exterior Design
The shape is defined by the Bentayga's unique muscular, sculptural lines, balancing athleticism with an unmistakable road presence. The Bentayga V8 exudes the Bentley design DNA, while the overt powerline, large rear haunches and raised ride height to reflect the rugged off-road ability of the luxury SUV.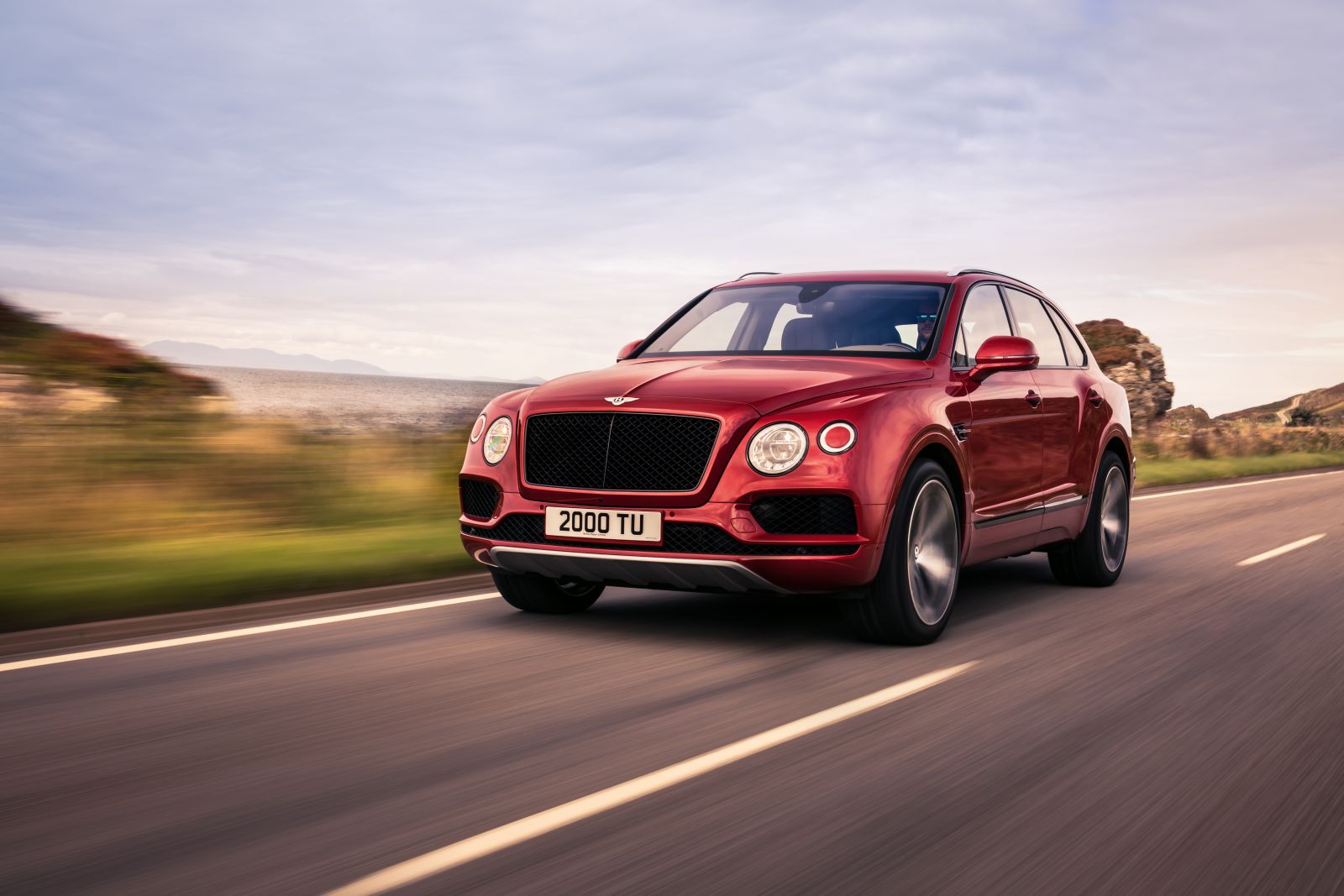 Optional carbon-ceramic brakes (which, among other things, assist in sport performance) are offered on the Bentayga- a first for the SUV. The braking system is the largest and most powerful ever fitted to a Bentley, and the largest front brake system available on any production car.
Also introduced on the Bentayga V8 are sporting red brake calipers for the front and rear standard iron brakes. The calipers are painted in special, high-temperature resistant Tornado red paint, and signal strongly the dynamic intent of this high-performance Bentayga V8.
With 11 wheel designs available, Bentley now includes an all-new 22" five-spoke wheel with black painted and polished finish. A purposeful black and chrome grille at the front is complemented by Bentley 'twin-quad' exhaust tailpipes at the rear, both of which provide a further subtle nod to the new V8 engine specification.
Sublime, Handcrafted Luxury Interior
The Bentayga V8 continues the Bentley tradition of intricate detailing and fine, handcrafted precision using authentic materials. Clients can specify hand cross-stitching, which highlights the interior styling lines of the seats and door panels, and there is the choice of the Bentayga's four-, five-, or seven-seat configuration, for ultimate versatility.
Three innovative new interior options are offered in the Bentayga V8: a high-gloss carbon-fiber finish replacing traditional veneer surfaces; a wood and hide steering wheel, and a new rich red leather called Cricket Ball.
The interior holds a few firsts for Bentley, which includes a high-gloss carbon-fiber finish (as opposed to a matte finish) is offered to customers seeking a contemporary, technical feel. Following suit, the wood and hide trimmed steering wheel (available in seven different veneer finishes) – can be specified in the Bentayga V8 for an authenticity only found in the realm of super luxury.
Finally, Cricket Ball leather makes its debut in the Bentayga V8. The evocative new color is inspired by the traditional and instantly appealing deep chestnut hue of a new cricket ball and it fits perfectly into the inspiring range of 15 interior colors and five color splits offered by the manufacturer.
Effortless, Unrestrained Bentley Performance
The Bentayga V8 is available with Bentley Dynamic Ride – the world's first electric active roll control technology that utilizes a 48V system. This system instantly counteracts lateral rolling forces when cornering and ensures maximum tire contact to deliver class-leading cabin stability, ride comfort and exceptional handling. A feature that personifies the new V8's effortless combination of track performance, off-road capability, exceptional comfort, and exquisite style options.
The Bentayga V8 offers class-leading ride comfort, steering feel and handling thanks to the partnership of a highly sophisticated chassis and Electronic Stability Control (ESC). In addition to advanced, multi-mode Traction Control (TCS), the Bentayga also features Hill Descent Control, Electric Power-Assisted Steering (EPAS), and a wide range (up eight modes) of on- and off-road drive settings.
All-Terrain Specification allows the customer to select the appropriate vehicle settings for a wide range of off-road surfaces, including Snow & Grass, Dirt & Gravel, Mud & Trail and Sand Dunes. Meanwhile, the Driver Information Panel displays information on pitch, roll, wheel articulation, steering angle, compass bearing and altitude.
Innovative Features and Advanced Technologies
A suite of state-of-the-art driver assistance systems and infotainment features designed to enhance safety, comfort and convenience make the Bentayga V8 an innovative, advanced and connected luxury SUV. The vehicle comes paired with an 8′ touchscreen infotainment system boasting class-leading navigation technology, a 60GB hard drive, and a choice of up to 30 languages. Passenger comfort was certainly not forgotten; rear seat passengers have a removable 10.2" Android device equipped with 4G, WiFi, and Bluetooth for high-speed connectivity.
A slew of new, adaptive technologies offer an improved and unchallenged driving experience. In urban environments, there are a number of driver aids available on the Bentayga V8. These systems – such as Traffic Sign Recognition, which detects a wide variety of traffic signs and displays information to the driver; Rear Crossing Traffic Warning, which uses radar technology to detect crossing traffic when reversing out of a parking space; and Top View, a system which uses four cameras to display an overall picture of the vehicle's surroundings – combine to enhance everyday usability.
Bentley provides the most powerful sound system in its segment, with the Naim for Bentley Premium Audio. As one of three options, this choice equipment comes with 1,950 watts, a network of 18 speakers, and super-tweeters
Clients can choose between three different sound systems for the Bentayga V8: Bentley Standard Audio, Bentley Signature Audio and Naim for Bentley Premium Audio. The latter is the most powerful system in the segment, with 1,950 watts, a network of 18 speakers and super-tweeters (ex. for high pitched sounds) for unrivaled recreation of the highest audio frequencies.
View our current lineup of available Bentley models and experience luxury at Park Place Bentley Dallas.