The tried-and-true hallmarks of Swedish automaker Volvo have always been safety, iron-clad reliability and fine craftsmanship. And if you're going to be known for something, those are good things.
---
But in the past few years, Volvo's upped its reputation ante in terms of performance and design, too. Take a look at the latest generation of the XC40, XC60, and XC90 SUVs and the S90 sedan and V90 wagon, and you'll see a decided shift to refined athleticism.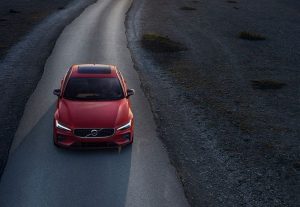 They've applied those attributes to their latest iteration of a perennial favorite, the 2020 S60.
"The S60 is surprisingly sporty, as well as beautifully crafted and extremely comfortable," intones Park Place Volvo Sales Experience Manager (SEM) Kurt Rongey. (He has the deep, reassuring baritone of a classical music station announcer, which he in fact was for 17 years at Dallas' WRR 101.1.) "But it's also about paying attention to the little things, and that's where the S60 really shines."
The S60 plays in a wildly competitive field – the compact, entry-level luxury sedan market – which is populated by vehicles such as the Audi A4, the BMW 3-series and the Mercedes C-class. In this arena, attention to detail is critical. And inside and out, the S60 delivers the goods.
The exterior looks lithe, lean and muscular, with taut lines, a sweeping roofline and those instantly recognizable taillights and "Thor's Hammer" emblazoned headlamps. It looks eager to go just standing still.
Move into the cabin for a deeper appreciation of Swedish contemporary design – roomier than one would expect, with plenty of leg- and head-room for 6' 2" and up occupants. Materials are all first-class, fitted and finished with precision. Textured aluminum provides intriguing brightwork, and the wood paneling is rich and vibrant.
Even little things grab your attention. The engine toggle switch and the sound system's volume control are knurled and have a solid feel similar to what's found in a Bentley or Rolls-Royce. Graphics are crisp and detailed on both the digital instrument cluster and the Sensus infotainment system's touchscreen.
And the seats! Cossetting and comforting, they're richly upholstered in fine leather and are a soothing place to while away one's time whether just commuting or driving long distances.
Even the base "Momentum" T5 designation is richly equipped, while luxury and performance climb higher with the "Inscription" and "R-Design" trim levels. Drivers will find rewarding performance from the base model's 250-hp turbocharged 2.0-liter inline-four, equipped with front-wheel drive and an eight-speed automatic transmission. There's no turbo lag and the transmission shifts like butter on a warm day.
"When a client comes in to check out the S60, I first steer them to test drive the T5 Momentum," says Rongey. "That way, they get a real feel for the depth and range of Volvo's artistry and precision."
It also doesn't hurt that, with a starting price of just under $36,000, the T5 is a downright bargain.
For those who prefer a wolf-in-sheep's-clothing mode, there's the T6 designation, which is also available in all three trim levels and features the same buttery gearbox, but is mated with a sporty 316-hp turbocharged and supercharged 2.0-liter engine, augmented by all-wheel drive.
And in the R-Design, with its stiffer suspension, you'll definitely surprise that teenager in his Mustang GT when you go roaring off the line.
Not that a Volvo driver would ever do that, of course.
"I really like the S60 lineup," concludes Rongey. "From the base model on up, you get everything you want with no compromise. It's sporty, refined, attractive, packed with value, beautifully appointed and good looking inside and out. You find yourself smiling when you drive it."
Learn more here.
Get yours at:
Park Place Volvo
3515 Inwood Road
Dallas, TX 75209
(972) 432-5622