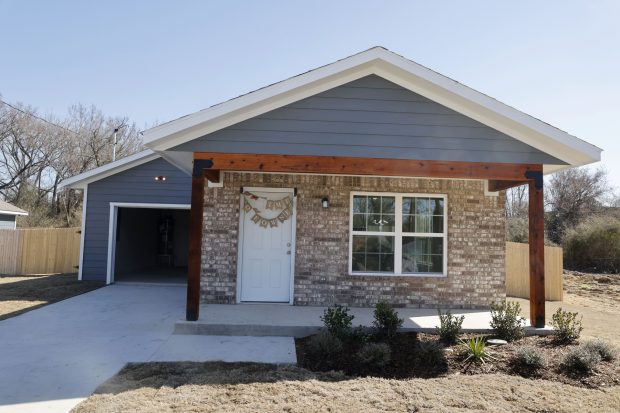 Park Place Dealerships recently joined Dallas Area Habitat for Humanity to welcome Rosemary and Wilber Salmeron to their new home in Dallas. After nearly six months of construction, the Salmerons were given the keys to their new home and a housewarming gift from Park Place.
Breaking ground last October, more than 160 Park Place members spent 10 weeks transforming the home from a blank slab as they raised the first walls, put up roof support trusses, built interior walls and installed exterior siding. Most of the members had little or no experience in home building or construction skills. Dallas Habitat for Humanity created processes that kept the family, staff and volunteers safe throughout the entire build. Rain or shine, Park Place members worked from October to December helping build the three-bedroom home for the Salmerons and their two children.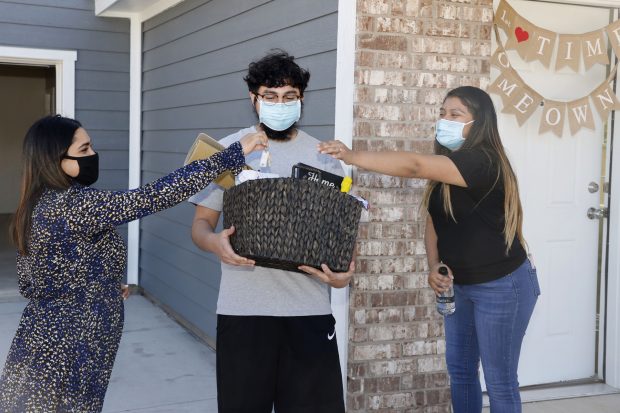 "For more than three decades, Park Place has given back to the communities where we live and work," said Tony Carimi, managing director of Park Place Dealerships. "But this is the first time we have embarked on a project of this scale. For 10 weeks, members from throughout our company worked together on this one initiative. It's been very rewarding to watch the home take shape week after week. Many of our members have commented on how much it means to help create a home that will bring joy to the Salmeron family for many years to come."
Serving families with an average annual income of $40,000, Dallas Area Habitat built 25 homes in 2020 despite the global pandemic.
Members from Park Place Motorcars Dallas, Park Place Motorcars Fort Worth, Bodywerks Fort Worth, Jaguar Land Rover DFW, Park Place's corporate office, Park Place Auto Auction, Park Place Porsche Dallas, Park Place Volvo, Bodywerks Dallas, Park Place Lexus Plano, Park Place Lexus Grapevine and Park Place Motorcars Arlington staggered volunteer days to serve. This was Park Place Dealerships' largest community relations project undertaken at any time in the company's 34-year history.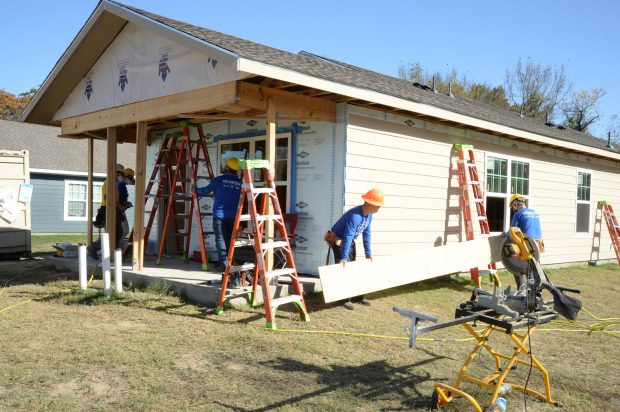 "Working together helped strengthen our bonds," said Anam Ali Hashambhai, marketing director for Park Place Dealerships. "You learn a lot about a co-worker when you're lifting a roof truss onto a house or swinging hammers side by side. Throughout the process our members were emphatic they got much more out of the experience than they contributed."
Habitat homeowners buy their homes, paying an affordable mortgage and the homeowners also invest hundreds of hours of labor working alongside volunteers. In order to qualify, families go thru an extensive vetting process and receive financial education and assistance to create a budget.
The Park Place Cares program supports more than 300 organizations around the Dallas-Fort Worth area throughout the year. Park Place's 1,400 members are further challenged to volunteer their time and resources to serve local communities. To follow Park Place Dealerships' build of the Habitat for Humanity home, visit ParkPlace.com/HabitatforHumanity.
Driven by the vision that everyone needs a decent place to live, Habitat for Humanity began in 1976 as a grassroots effort on a community farm in southern Georgia. The Christian housing organization has since grown to become a leading global nonprofit working in local communities across all 50 states in the U.S. and in more than 70 countries. The local affiliate was founded in 1986 and has built more than 1700 homes over a 34-year history. Through affordable homeownership opportunities, financial education, advocacy efforts, and neighborhood empowerment programs, Dallas Area Habitat transforms families, revitalizes neighborhoods, and is working together to build a better Dallas. Strategically bringing together public and private funding, community leadership and vision, and thousands of volunteers – we will break the cycle of poverty and transform communities. Through shelter, we empower. To learn more, visit DallasAreaHabitat.org.
[ngg src="galleries" ids="5″ display="basic_thumbnail" thumbnail_crop="0″]