Malcolm Gage Enrolled in Pre-Med Courses at SMU until a Part-Time Job Led Him Down a Different Road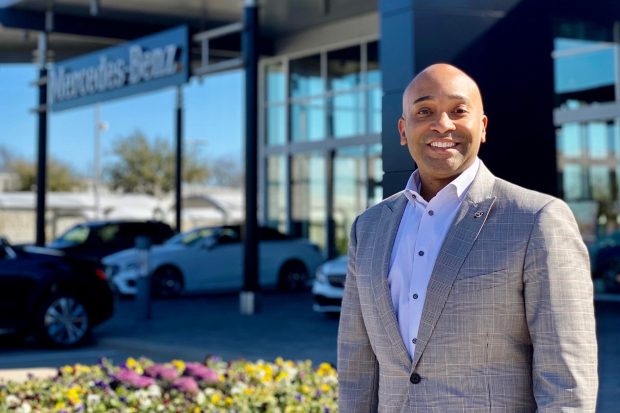 Malcolm R. Gage Jr., current General Manager at Park Place Motorcars Arlington, never envisioned a career in the automotive industry. In fact, he was in a Pre-Med program at Southern Methodist University in 1997 when his college roommate suggested he could get Malcolm a job at a Lewisville Ford dealership during his college break.
"My friend thought my quick wit and personality would be a good fit," recalled Gage. "Reluctantly, I took his advice, and they hired me the same day I interviewed. I fell in love with the job, and changed my focus to a career in the automotive industry. Now, 23 years later, I know it was the right decision."

A Journey to Automotive
In 2005, Gage joined Park Place Dealerships as New Car Sales Manager at Park Place Motorcars Bedford, which is now located in Grapevine. Gage quickly rose up the ranks at Park Place, where he spent the past five years as New Car Sales Director at the Park Place Premier Collection in Dallas, representing luxury brands Rolls-Royce, Bentley, Maserati, and McLaren. He was recently named General Manager at Park Place Motorcars Arlington.
"The automotive business is unlike any other," said Gage. "I've made some amazing contacts, and it's given me opportunities I never could've imagined. Having the opportunity to work in state-of-the-art facilities with world-class brands, and interacting with professionals of the highest caliber, one cannot put a value on that. I consider myself blessed to have reached this point, but I credit a lot of mentors and managers that have supported me and given me guidance to reach this point."
Rolls-Royce Sales Manager of the Year, Coach of the Year, and SMU Alum
Some of his greatest accomplishments are being named
Coach of the Year
from two different Park Place dealerships, and being part of teams that were recognized as
Dealerships of the Year,
both nationally and internationally. Gage was also named the first-ever
Rolls-Royce Sales Manager of the Year
by Rolls-Royce Motorcars North America.
"As leaders of this organization, we try to predict future trends based on metrics and the past," explained Gage. "But there are so many external factors that can affect it at any moment. Hiring and retaining the best talent is a challenge, but we pride ourselves on our industry-leading retention rates. I think the biggest challenge is probably the pressure we put on ourselves to exceed expectations."
Gage graduated from Southern Methodist University in 1999 with a Bachelor of Arts degree in Public Affairs and Corporate Communications, and he is still involved with the SMU Alumni Association. He is an Alpha Phi Alpha Fraternity Lifetime Member, and he volunteers with Equality Texas, the Human Rights Campaign, the Greater Arlington Chamber of Commerce, and several other organizations.
"I'm involved with these organizations to give back to the Dallas/Fort Worth community that has given so much to me. Much of my success in this industry has been from networking and forming relationships with business and civic leaders in the area. I've always believed in dedicating time to serve others."
Featured on the Food Network, Too!
Food Network fans may remember Malcolm Gage and Ophelia's New Soul co-owner Cordey Lash as winners of the acclaimed TV show's Food Court Wars. Formerly located in Plano's Collin Creek Mall Food Court, Ophelia's New Soul launched in 2014 and specialized in modern interpretations of classic soul food dishes served in a fast, yet relaxed, atmosphere.

"We have been approached by fans of the restaurant asking if we were going to open a new location," Gage explains. "But I think my time in the restaurant industry has passed. We achieved great success and national recognition with Ophelia's New Soul, and it allowed us to create a franchising plan for someone who might want to continue the brand. Who knows what the future holds? It's still a treat to see the episode on Food Network at times."
---
Park Place Motorcars Arlington is located at 4201 Beltway Place off I-20 at S. Center Street. Founded in 1987 with a single Mercedes-Benz dealership on Oak Lawn in Dallas, Park Place Dealerships also represents luxury brands Rolls-Royce, Bentley, Maserati, McLaren, Koenigsegg, Lexus, Porsche, Volvo, Jaguar and Land Rover. For more information, visit parkplace.com.