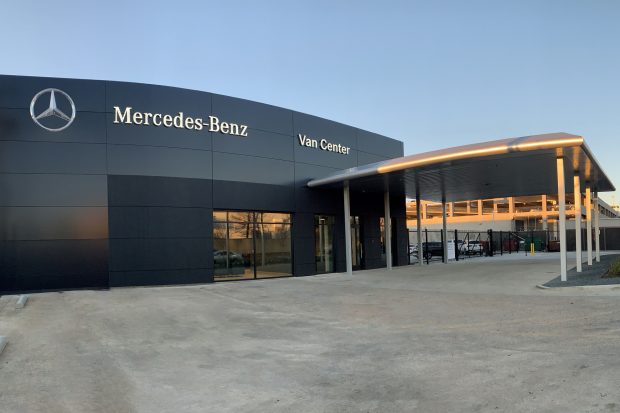 Park Place Dealerships opened a new Mercedes-Benz Sprinter store February 8 at 3333 Atwell Street, one block from their flagship Mercedes-Benz dealership (Park Place Motorcars Dallas) on Lemmon Avenue. The 21,428 square-foot facility houses sales and service, including 12 service bays with eight lifts.
"Throughout the years, we've assisted clients out of our dealership with the design, purchase and service of Sprinter vans for their business and personal needs," said Robert Morris, General Manager of Sprinter Dallas and Park Place Motorcars Dallas. "This new store will enable us to better serve or clients, whether they need a single Sprinter van or a fleet of 30. We've also seen a trend in custom conversions for personal travel. The beauty of the Sprinter is its versatility with the quality and reliability of Mercedes-Benz."
Mercedes-Benz created the world's first motorized truck/van in 1896. Produced by Daimler-Motoren-Gesellschaft, and delivered to a customer in London, the vehicle offered a 1500 kg (3,307 pound) payload with a two-cylinder engine that delivered a top speed of 7 mph. In the same year, rival Karl Benz developed a van-type delivery vehicle for supply to a Paris department store. In 1926, Daimler-Motoren-Gesellschaft and Benz joined forces to form Daimler-Benz AG.
"With 13 different models, and endless options to customize the interior for specific needs, today's Sprinter is the most adaptable van on the market," says Morris. "And every Sprinter comes with Mercedes PRO Connect, an integrated vehicle monitoring software that connects drivers and businesses to raise efficiency, increase security and improve safety. And it's for free for three years."
In 1995, the Sprinter van launched in Europe. Available in Traveliner, panel van and pick-up versions, it introduced cutting-edge technology like ABS anti-lock braking as standard equipment.
In 2010, the Sprinter van entered the U.S. market. In 2013, Sprinter set a new benchmark for efficiency, safety and dynamics with an updated model that introduced new industry-leading safety systems such as Crosswind Assist, Collision Prevention Assist, Blind Spot Assist, High Beam Assist and Lane Keeping Assist. Perhaps most importantly for a commercial vehicle, the Sprinter's low fuel consumption made it the most efficient vehicle in its segment.
Located near Love Field, Park Place Sprinter Dallas is open 9 a.m. – 7 p.m. Monday – Friday, and open until 6 p.m. Saturday. Parts and Service hours are 8 a.m. – 6 p.m. Monday – Friday, and open until 5 p.m. Saturday. For more info, visit us at parkplace.com.