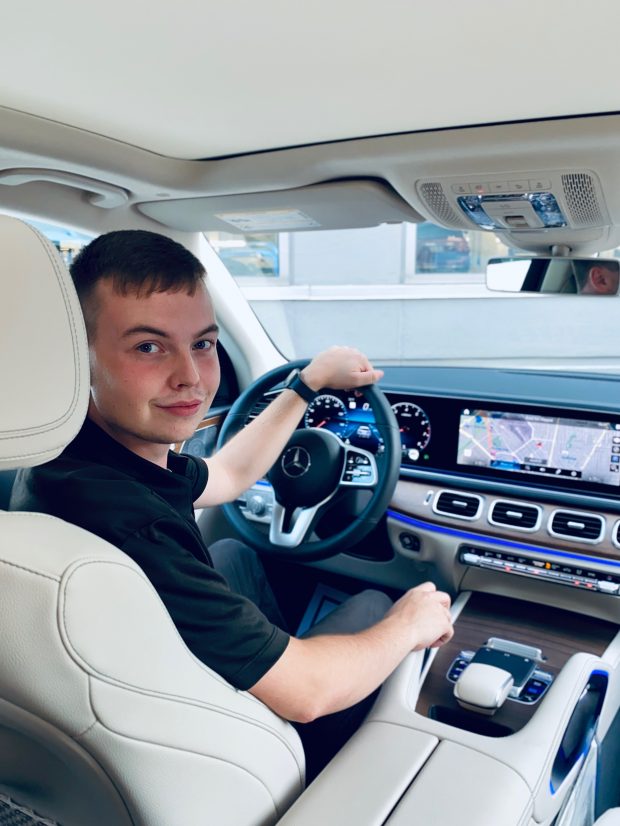 "I've been obsessed with Mercedes practically my whole life," says Mark Kelley. "And I never imagined as a kid that I'd be doing this for a living."
"This" is his gig as a Product Specialist with Park Place Motorcars Dallas. In a nutshell, his job is to familiarize himself with all the ins and outs of every Mercedes product – no small task, given the company's expansive portfolio – then share that knowledge with clients who might have questions about their model's advanced technology and performance.
He also shares his expertise with team members to help them understand a particular vehicle's features and functions. In some cases, that might mean diagnosing and explaining an electronic application – a nav system or alarm feature, perhaps – that eliminates the need for a service drop-off.
"Sometimes we can solve an issue right in the service driveway without having to take the vehicle in," he says. "Saves a lot of time."
He joined the dealership just a year ago as part of the concierge team. But his infatuation with learning all things Mercedes quickly led to his current role, which also includes actively posting (along with his buddy Joni Tsosie) for the store on social media.
"She's everything a good co-worker is supposed to be," he says. "Super-kind, always has new and original ideas. We complement each other well and I think we're a really good team."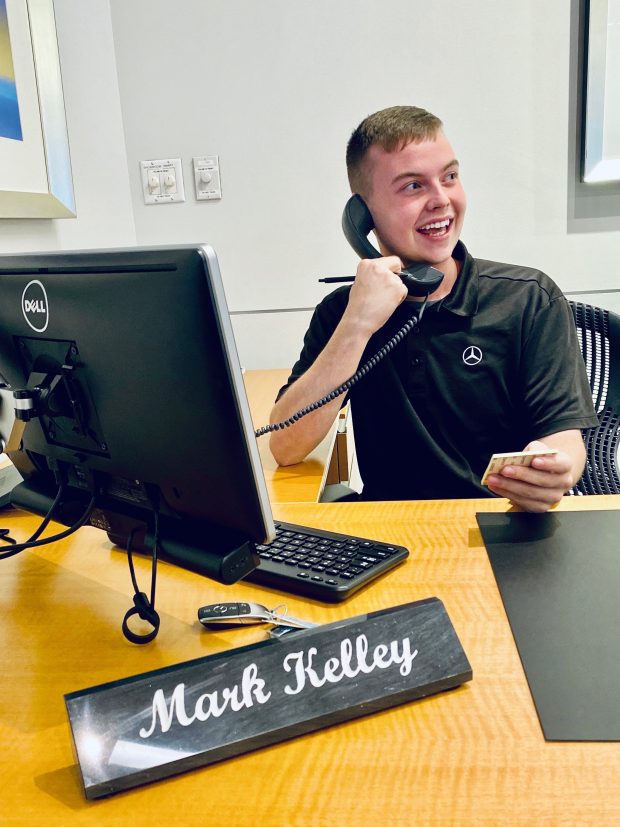 He recalls his first days at the store with unbridled enthusiasm. "On my first day, I was handed the keys to an AMG GT 63 S for a client delivery and was thunderstruck. This environment is just a dream for a car nut like me. It'll never, ever get old."
Recounting his fascination with cars, the southeast Kentucky native admits that when he was younger, Corvettes and the Italian breeds were his thing. But even then, he always admired the style, power, luxury and storied history of Mercedes.
Then he got to ride in the legendary SLK55 AMG, with its hand-built 5.5-liter V-8 cranking an impressive 415 hp, mated with the silky-smooth seven-speed automatic transmission.
And that, as they say, was that. "To say that my impression was lasting is a huge understatement," he laughs. "It's been Mercedes, Mercedes, Mercedes, ever since."
As to the thorny issue (for car nuts, at least) of what his favorite Mercedes product is, Kelley pauses, then whistles. "That's really difficult, but I'd have to say the Maybach. The execution, the tech, the luxury, the performance – it has no flaws. It's perfection."
In his spare time, Kelley's a fancier of anything outdoor-sports related, such as hiking and playing disc golf, a game that involves Frisbees instead of the traditional clubs and little white ball. The degree of difficulty, however, is similarly frustrating. "I try," he says with a sigh.
One thing he misses from Kentucky – homestyle chicken and dumplings. "I'll get a hankering, but nobody knows how to do it in Texas. I'm still looking, though."
He also says he's into all kinds of music. "Country, pop, and a lot of the stuff from the early 2000s, like Britney, NSYNC, Destiny's Child, TLC and Backstreet Boys. "Kind of weird, but I like it," he grins. At the moment, he's into "Midnight Sky," the latest single from Miley Cyrus' upcoming album.
Hey, bet she sounds really good coming through the 26 speakers of the Maybach's Burmester® High-End 3D Surround Sound system.
"I'll let you know," he chuckles.