Dallas-born Henry Ortiz grew up in nearby Euless, graduated Trinity High (Go Trojans!) in May 2006 and like most grads, wondered what to do with himself. His job at a local Tom Thumb grocery store was okay for the moment, but in his quiet, determined way, he aspired to more. Much more.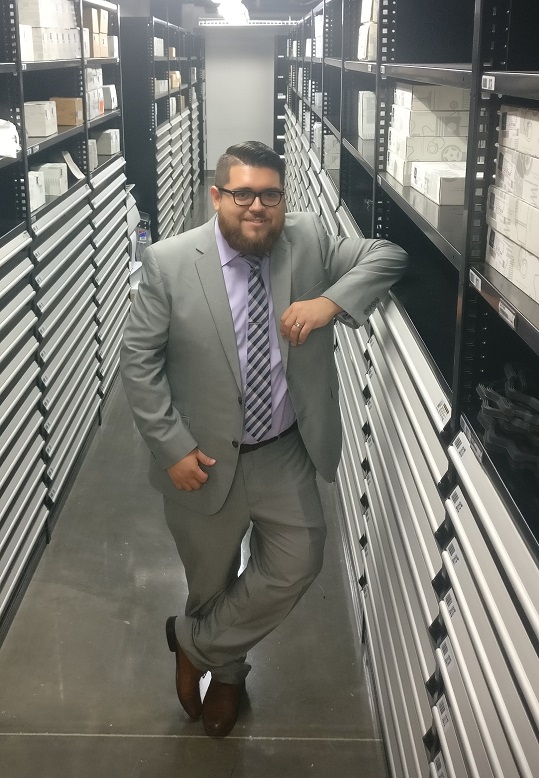 So when a customer casually mentioned that Park Place Mid Cities was hiring just down the road, he jumped. A month later, he was a parts runner with the parts team, learning and absorbing everything around him, focused on achieving his goal – working his way up to a service technician role and becoming a master of all things Mercedes.
"Seemed like a good idea at the time," he chuckles.
He took advantage of a transfer opportunity at Motorcars Fort Worth, where he met his new boss and mentor, Diki Terry, who was serving as Assistant Parts Manager. And when Terry was asked to serve as Parts Director at the newly-opened Park Place Motorcars Arlington store in October 2015, she asked Henry if he'd like to join her team.
He couldn't say "yes" fast enough.
Now, as Parts Manager (he was promoted in the summer of 2018), he's still saying "yes" – happily – to service techs, to parts customers around the metroplex, to the occasional client who wanders in and, of course, to Terry, too (hey, she's the boss). See her Spotlight here.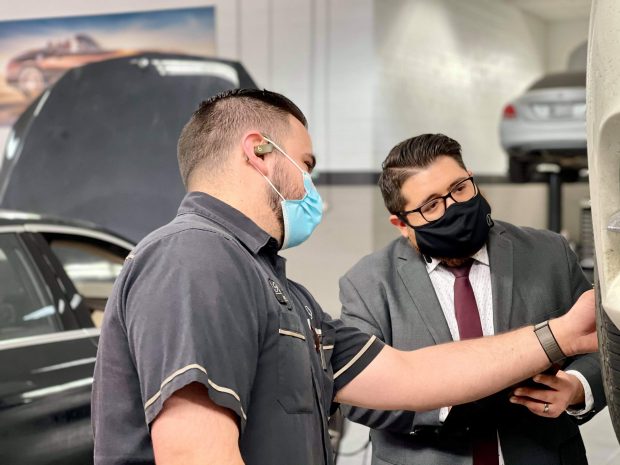 "Henry is a great asset, not only our department, but to Park Place Arlington as well," Terry says. "He provides an outstanding client experience to both our internal and external clients. He's quick to jump in to assist in all areas and he's a great mentor and leader to our team. Henry is passionate in caring for our members and our clients. He's knowledgeable and shares his experiences with others to lead and develop them in their career."
"She's famous for her daily 15-minute tune-up meetings with our staff," he says. "It's a great way to identify and solve whatever challenges we face that day. On the rare occasion when she's not here, we do them ourselves."
Ortiz has no regrets about sticking with parts instead of pursuing a service tech role.
"From day one, it was clear that the company was interested in my professional development by extending opportunities to me," he says. "I could've gone the tech route, but I felt super-comfortable with the way things were rolling. The whole management team is really invested in making growth investments in our team members. Where else can you find that?"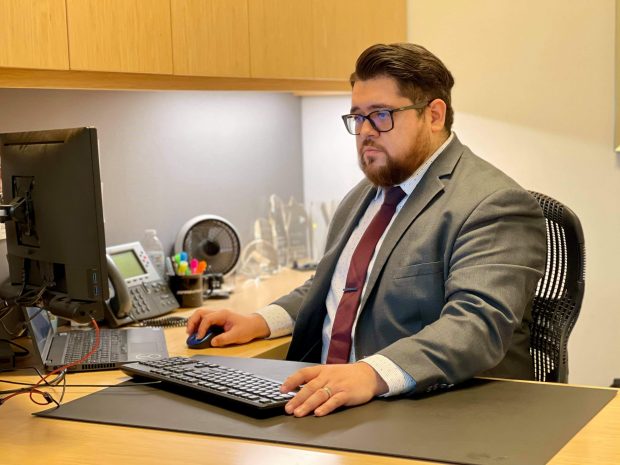 Along the way, he's also been able to indulge his curiosity about the many technicalities of Mercedes engineering. "My parents had a late Reagan-era Mercedes and even though I was just a kid, I knew it was different from everything else: really solid and built to a different standard of quality than anything else."
When he joined Park Place, he was immediately enrolled in, and continues to attend, various and sundry Mercedes certification course. "There's so much history behind the brand," he says. "After all, they invented and patented the first automobile more than a hundred years ago. There's just so much that you might not know unless you own one and take the time to look into it. Fantastic vehicles."
Although he works primarily behind the scenes, he remembers one pre-owned client who he helped with exceptional service. She decided that she wasn't all that crazy about her wheels, and Ortiz helpfully stepped in with several recommendations that raised her satisfaction level to a perfect 10.
"After that, she'd stop by now and then and we'd always have a nice chat," he says. "On one visit, she mentioned that she was expecting, so I got her a little Mercedes stuffed bear to say congratulations. She sent us a handwritten thank-you note about how blessed she felt to have friends at our store. It was a really sweet moment for all of us, since we don't often get a chance to build relationships directly with clients."
Speaking of families, Ortiz and his wife Veronica have two boys, Jude and Liam, and recently welcomed a baby girl, Emry, in January. But it's his first-born's name – Jude – That reveals his respect for a certain well-known classic British band from Liverpool.
"I play a little piano and guitar and a few years ago began noticing that all the songs I really liked are Beatles tunes, especially 'Hey Jude,'" he says. (Ortiz plays a Fender Stratocaster and a Gibson Les Paul-style, which speaks volumes to those in the know.)
"So Veronica and I decided, hey, Jude! All his teachers would sing it to him, because everybody on the planet knows the song. He's probably sick of it," Ortiz adds with a grin.
Did they ever consider that Emry might be a Lucy instead?
"For about a minute," he laughs.