Park Place is dedicated to maintaining our manufacturer's high standards of quality- from service, sales, and to collision and body shop repair. You may not know this, but Park Place actually has three collision repair centers around DFW, one of which is Grapevine, Texas. Park Place BodyWerks offers only Original Manufacturer parts, putting their client's safety and overall quality first.
In this case, Park Place BodyWerks Technicians are also Lexus Master Certified Technicians- further training that our shops require of the technicians. They hold their certifications by attending Lexus training each year. Park Place BodyWerks is one of three certified Lexus Collision Centers in the DFW area.
Lexus officially recognized Mark Waugh, Eric McKenzie, and the entire collision repair team at BodyWerks Grapevine for their continue innovations in the way they deliver industry leading customer service. As a result of grit and a commitment to upholding not just Park Place, but also Lexus Standards, they are officially one of two body shops recognized in 2018 for Certified Collision Repair Center of the year. And let's just say, the competition wasn't easy by any means.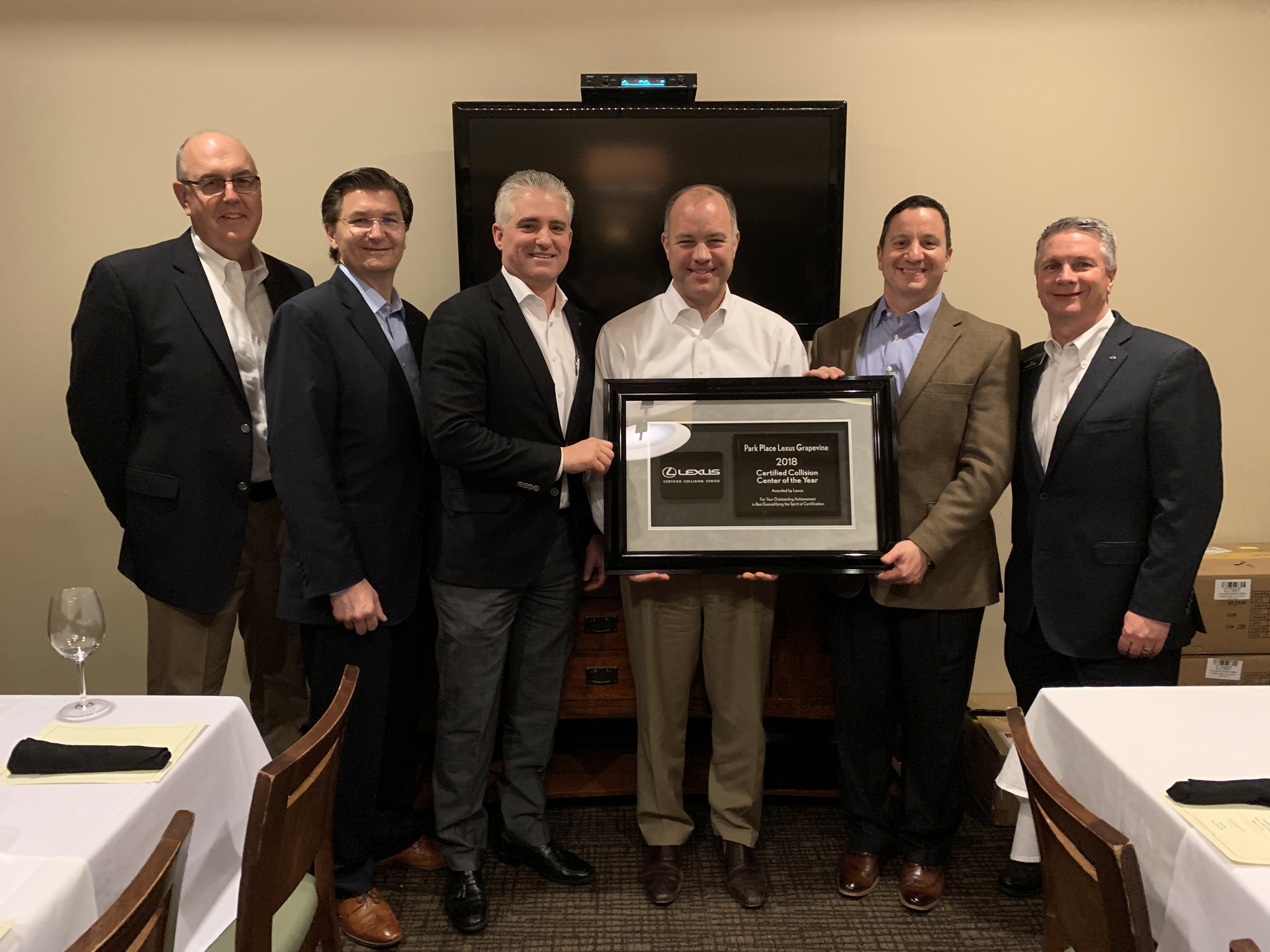 Park Place BodyWerks Grapevine was measured by 12 KPI's (Key Performance Indicators) throughout the year. The competition was strong and numerous withe 32 Lexus Certified Collision Centers in the country. Mark Waugh, Body Shop Manager, comments further saying "They are all great Collision Centers, so often it comes down to a point or two every year." This year the winner was decided by CSI to which Park Place BodyWerks Grapevine held the crown.
Mark owes this great distinction, without hesitation, to his entire team:
"I have the greatest TEAM in the country! They are dedicated to doing the right thing every time. When we became certified three years ago and I told my team we had a mission: to win the trophy of "Lexus Certified Collision Shop Of The Year" in our first year. We came in second place the first two years. We won it in our third year of being on the program and no one has done that so I am very excited for the Team and honored to hang that plaque on our wall. We are working on a repeat this year!

---
Learn more about the BodyWerks Process and our Lexus Certified Collision Repair Centers by visiting www.ParkPlaceBodyWerks.com.