Did you know that we have a wide array of Pre-Owned and Certified vehicles in our showrooms and inventory? Introducing the Park Place Pre-Owned event, which is a great way to experience affordable luxury to kick off the new year. With over 1400 Pre-Owned vehicles, including over 700 Certified Pre-Owned models and an array of non-certified Pre-Owned vehicles, there are plenty of cars and SUVs to choose from.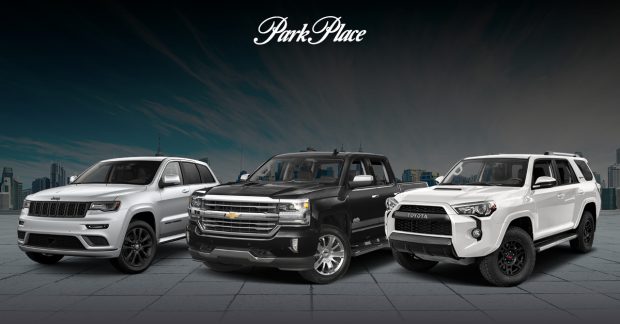 To help guide you during the Park Place Pre-Owned event, we have highlighted notable models across our dealerships that could very well be the next vehicle in your driveway.
Jaguar F-Type & Land Rover Range Rover Sport
If you love responsive handling with a sports car vibe, the Jaguar F-Type offers coupe and convertible options for sale. Whether you enjoy a hard rooftop or want to let the top down during the springtime, drivers will enjoy the experience behind the Jaguar wheel.
The same handling experience can be found with the Range Rover Sport. Whether you are driving around the Dallas tollways during the week or navigating mountainous terrains during vacation, the Range Rover Sport SUV adds more throttle to your commute.
When purchasing the Certified Pre-Owned Jaguar or Land Rover, the CPO warranty covers 7 years from the original in-service date or when your purchase reaches 100,000 total miles, whichever comes first.
The Lexus NX features modern interior design complemented by swift SUV performance. Ever since the NX debuted with its 2015 year model release, drivers have enjoyed the comfortable seating and adaptable cargo space. When purchasing a Certified Pre-Owned NX, L/Certified warranty offers you four complimentary maintenances for two years or 20,000 miles, whichever comes first.
Available at our Premier Collection, the McLaren 720S is ready for action as soon as you the start engine. The 720S is designed to be an everyday vehicle but also pushes the limits of relentless performance. Those interested Certified Pre-Owned McLarens can enjoy an additional 12 months or up to 12,000 miles of McLaren Qualified warranty.
Mercedes-Benz meets the needs of drivers who love the comfortability of a luxury SUV paired with the drivability of a compact sedan. Certified Pre-Owned GLCs are available dating back to 2016 models. Any GLC300 comes with an unlimited mileage Certified Pre-Owned warranty for an additional year – with the possibility to extend coverage for two additional years at the time of purchase.
As SUV growth continues to climb industry-wide, the Porsche Macan is at the forefront of the SUV revolution. Not to mention, the performance crossover SUV is Porsche's top-selling vehicle. Since its introductory 2015 model, Macan owners have enjoyed the athletic ride paired with the authentic Porsche styling. Owners who purchase a Porsche Certified Pre-Owned model will also enjoy 2 years of unlimited mileage warranty coverage after the expiration of the new vehicle limited warranty.
The top-selling Volvo model concludes the Park Place Pre-Owned Event vehicle watch list. Whether you need additional cargo space for a weekend getaway or daily driver to pick up the kids, the XC90 provides ample room for up to 7 occupants. With additional safety support and cozy comfort, Volvo's full-size SUV helped the Swedish brand achieve their highest sales volume in 12 years.
With your purchase of a Certified Pre-Owned Volvo, owners will enjoy a 5 year or unlimited-mile warranty coverage from the original in-service date of the car. Additional warranty coverage can also be purchased up to a total of 10 years and unlimited miles at the time of purchase.
If you are in the market to upgrade your vehicle during the Park Place Pre-Owned Event, please visit parkplace.com to find your favorite Pre-Owned options.