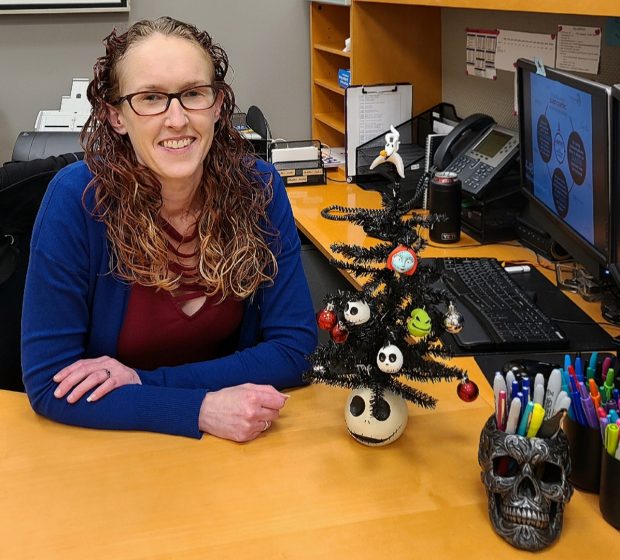 "I'm a nerd," admits Becky Ashcraft, Financial Business Partner for Park Place Motorcars Fort Worth. "I build Legos, love anime, can't sit still and obsess about details."
You mean like Sheldon Cooper, the fictional Caltech physicist and ardent comic-book fan on CBS' "The Big Bang Theory"?
"Exactly!" she exclaims gleefully, picking up and waving one of the dozen or so plastic grinning skulls decorating her desk. "See what I mean? I like weird stuff! Any questions?"
Actually, yes, we're fairly bubbling over with curiosity. But first, a point – while nerds generally lack social skills, this Fort Worth native and West Academy graduate is lively, outgoing, animated, direct and generally a super-fun person to hang out with. Consider her email signature: "Have an Awesome-Tastic Day!"
Given her joie de vivre, it's easy to see why she was hired the same day she interviewed with Park Place. "Back in 2006, a friend of a friend called and suggested I apply online for a valet gig, which I did, and I got a call two hours later for a same-day interview," she recalls. "I still had chlorine in my hair from the pool, but I showed up and got the job. It's my husband's birthday, so not a date I'm likely to forget."
She moved quickly into a loan car coordinator position, then was promoted to an accounting inventory specialist role, then a title specialist, then a billing specialist, then a Business Coordinator. She just recently accepted her current role as a Financial Business Partner.
Her eye for detail is positively Holmesian, which is a very good thing in her line of work. "We're a two-person team and we double-check every little thing to complete the sale. It's like a puzzle, putting together all the pieces correctly to get the final result," she says.
Sort of like … a Lego puzzle?
"Yes, but not nearly so complex," she says with a grin. "I got into Legos with my son, but he was a bit too young. However, I got hooked. Just recently, I finished the Lego Disney Castle, which took a year, believe it or not." (We believe it – even expert modelers quail at the set's 4,000 pieces that, when completed, stands 30 inches tall and features a stone bridge, ornate balconies, a four-story main building and a five-story, golden-spired main tower.) "It's in our home's entryway for all to see! I've built about 50 different sets so far."
Next up – a 13-inch-tall Yoda. At a mere 1,771 pieces, it should be a breeze.
Her fascination with complex puzzles extends to her taste for fantasy in literature and popular entertainment. She favors Stephen King's "Dark Tower" book series and Marvel Studio movies. Recently, she found herself caught up with "Bleach," a Japanese anime TV series and was bereft when the 366-episode series concluded.
"I love immersive supernatural stories, especially in anime format," she says. "Fighting dragons, magic, mythology, all that stuff. The skulls, too. I started collecting them about ten years ago. They're all over my office. For holidays at home, we put little seasonal caps on them. What else do you call that but nerdy?"
How about imaginative? Or eclectic? Or a wildly funny sense of humor? Or maybe, just maybe, she's one of the millions of people worldwide who admire brilliant storytelling?
"Yeah, let's go with that," she laughs.
In fact, "creative" might be Becky's best descriptor. Few know this – and you read it here first! – but she's also a championship dancer. Ballet pointe, jazz, tap – you name it, she can twirl, kick, shimmy, shake and glide like a pro. Because she is.
"I was part of the Bruce Lea Dance Factory competition team," she says. "We performed at Miss Texas pageants, Las Vegas shows, conventions all over the country. That was my life every weekend for 14 years. I don't do it anymore, but it's like riding a bike, it never goes away. Every now and then, you might even catch me doing a few steps here in the hallways."
Perhaps the most puzzling thing about Becky might be her food preferences. "I'm a picky eater," she says. "I eat less than my child. My tastes are simple – meat, cheese, potatoes. I like tacos with beef and cheese only. Pizza with no sauce. My husband makes the best hamburgers in the world. And I'll stand in line at Joe T.'s for their cheese quesadillas. Very simple, really."
But there's no puzzle about why Park Place is her perfect fit. "It's my home away from home," she says. "I love this place. Everybody knows my family, my husband, my 13-year-old son, even my parents. It's trite to say, but it's a family. And since I only live three miles from here, I can't complain about the commute. What's not to like?"