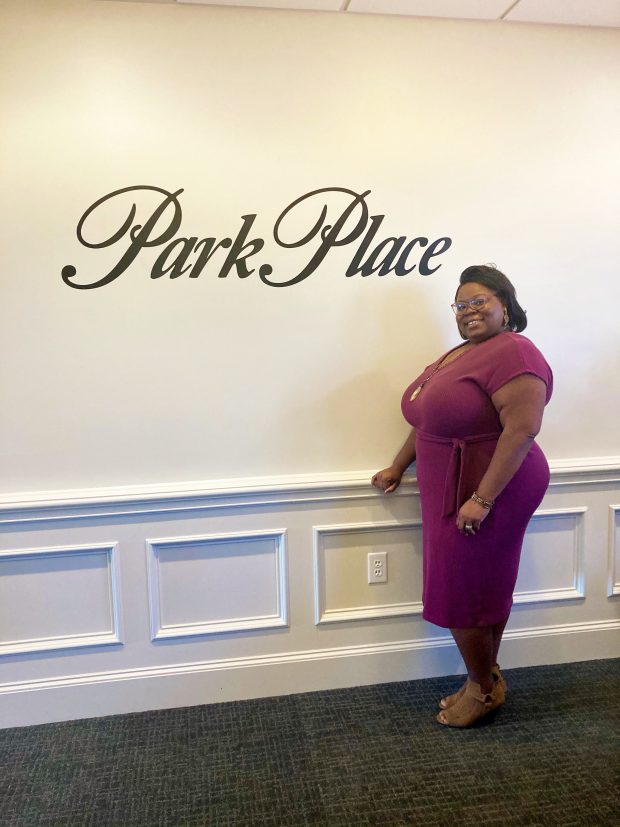 Kirsten Jackson – Extroverted Introvert? Introverted Extrovert? Both? Neither?
It's a dilemma. Is Kirsten a live-wire loner or a shy social butterfly? She seems to think she's a little of both. "Sometimes at meetings or social events, I'm extremely quiet at first," she says. "But then some comment gets me going and you'll wish I shut up."
Then she lets out one of her rollicking laughs – a Jackson trademark – and you pretty much realize that she's the only one who thinks she's a shrinking violet.
"Kirsten bashful?" snorts a co-worker, his face breaking into a giant grin. "She's about as bashful as a hand grenade. Don't say I said that, we all love her, really," he adds hastily.
Too late.
In fact, when she first interviewed with Park Place, the perky Dallas native was the essence of bubbly enthusiasm – just what the hiring manager was looking for. But for the first few initial meetings, she defaulted to demure mode.
"My boss asked me if I'd faked my interview, but I was new, you know?" Kirsten says. "I just started laughing and said okay, you'll be sorry. But I always remember what my high school history teacher at Franklin D. Roosevelt High said: 'It's better to remain silent and be thought a fool, than to open your mouth and remove all doubt.'"
If she's quiet now and then, it's because she's naturally calm. Given her job as a payroll specialist, that's a good thing. "In my job, I put out fires, because people tend to get hot when it comes to their check," she says. "And I get it, it's perfectly understandable. So I just say, 'Let's calm down, everything is fixable, I promise I'll fix it.'"
She credits her calm demeanor to being raised an only child. "I never had to deal with all that 'he took my stuff or open the bathroom' nonsense. I'm the calm one in the room. Even if sometimes my body language might say what I'm not verbalizing!"
When she's not verbalizing, she's planning. "A personality test said I fell into the planner category and that's so true," she says. "Honestly, I have more fun planning a party or an event and buying all the stuff to make it a success, than I do at the actual event."
If you were a personality on a TV show, who would you be? "All the characters on the 'Golden Girls' TV show," she enthuses. "It's my favorite show of all time, I watch it every day!"
She joined Park Place in 2012, after six-year stints in HR at both the Mervyn's department store chain and Dallas-based Truco Industries, a national marketing and distribution company representing On The Border® brand products. She got caught up in a layoff and, as she cast about for a new gig, Park Place hit her radar.
"All I really knew about Park Place was that my mom got her car there," she says. "But once I was on board, I found the behind-the-scenes dealership dynamic fascinating. And the people! It's hard to describe the culture but it just feels so right and comfortable."
To say the feeling is mutual is an understatement. In a recent email exchange, Cam Mayfield, Service Director at Park Place Motorcars Dallas, wrote to her and said, "I just want to take a second to recognize you, Kirsten, for the incredible job you've been doing! You have really done an amazing job teaching all of us the new payroll process. We are fortunate to have you are on our team. Thank you!"
Malcolm Gage​, General Manager, Park Place Motorcars Arlington, added to the love-fest: "I agree 1000%! You have been a superstar for our members during this transition and the challenges that we've faced. You are truly a VIP for Park Place and the epitome of our core values. Thank you for all you do!"
Elisa Waugh, HR Director, Park Place Dealerships, also weighed in. "I second that. Thank you, Kirsten, for all you do."
And that pretty much sums things up right there.