$3 million Mega Grand Tourer is 1 of only 80 Worldwide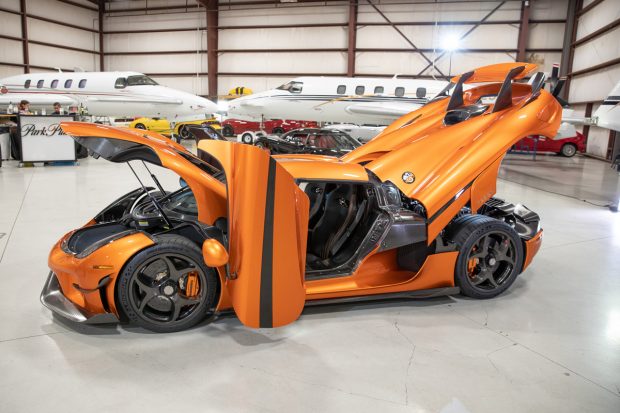 DALLAS – March 10, 2020 — Gliding into an airplane hangar in Addison recently with only the slightest purr was a rare $3 million Koenigsegg Regera. Aside from its distinctive look, there was barely a hint of the massive power beneath her luminescent exterior. When the driver's door effortlessly lifted up, owner Eddie Lee of Dallas beamed with pride.
Koenigsegg Dallas, part of the Park Place Premier Collection, recently hosted an intimate gathering for Eddie and Laura Lee and their friends at the home of Starship 1 jets to celebrate the delivery of this megahypercar.
The Regera is a limited-production, plug-in hybrid, grand touring sports car manufactured by the Swedish auto manufacturer Koenigsegg. Only 80 Regeras will be built, all of which have already been sold.
The Lee's Regera is number 24 of 80… chassis number 168, which is a very fortunate set of numbers in Chinese culture. The number is believed to be lucky because in Cantonese it sounds similar to: "one path to prosperity." The number one is "one." Six represents "path." And eight sounds like "Prosperity."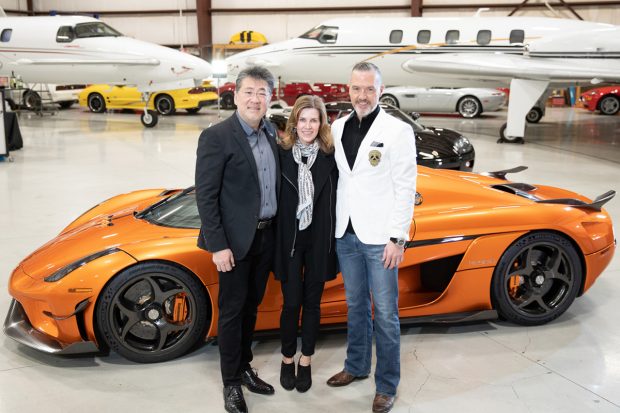 "When I first got involved with Koenigsegg, I found out they number their chassis sequentially," explained Eddie Lee. "The very first chassis was 01, the next 02, etc. My 2009 Koenigsegg CCXR is chassis number 62. I asked Koenigsegg what number my Regera chassis would be. When they told me it would be number 168, I shared the story of this set of lucky numbers. They made a very specialized logo for my car, which you'll see on the exterior of my car. It really was meant to be."
In the Swedish language Regera means "to reign" or "to rule" and this 1,500 horsepower hypercar will certainly rule the road or on the track, rocketing effortlessly from 0-to-60 mph in 2.8 seconds… 0-to-249 mph in less than 20 seconds… making it the fastest-accelerating car in the world. It is electronically restricted to a maximum speed of 255 mph.
With a curb weight (including all liquids and a full tank of gas) of about 3,500 pounds, the Regera offers an optional aero-pack for increased downforce to keep the lightweight supercar well-grounded, including an extended front splitter, carbon winglets along the sides and external aero-wings on the rear, in addition to the retractable and active rear wing. Eddie Lee opted for the aero-pack on his car.
Utilizing a hybrid drivetrain unlike anything ever previously produced, it is powered by both a 5.0-liter twin-turbo V8 engine and three electric motors for a total combined output of 1.11 megawatts. The unique single speed Koenigsegg Direct Drive unit allows the Regera to almost instantly reach maximum thrust.
This engineering marvel provides the instant throttle response and immediate acceleration of an electric hypercar with the satisfying roar of a twin-turbo V8 and the superb handling of hydraulic steering for the best of both worlds.
"This Regera is such a special car because it's really the vision of one man: Christian von Koenigsegg," said Park Place Premier Collection General Manager Heath Strayhan. "Eddie's Sweet Mandarin Pearl exterior with exposed carbon fiber is a great selection. We're very proud of this car."
Koenigsegg's exclusive Autoskin robotics allows the owner to open and close the front luggage door, the rear engine cover, and both passenger and driver doors by remote control. The car literally transforms at the touch of a button. The rear clam shell, which is a single piece of carbon fiber, lifts for fueling and engine access. The doors gracefully lift up and away for easy ingress and egress. The system uses lightweight hydraulics, soft close mechanisms and proximity sensors to operate the doors in an effortless and fluid motion that is as practical as it is breathtaking.
"People often comment on our cars looking spectacular when all the doors of the vehicle are open," Christian von Koenigsegg states on the company's website. "Our new Autoskin system enhances this, adding a new level of beauty, practicality and sophistication to the most exciting new hypercar in the world."
The Regera is a mega Grand Tourer with the comfort of a luxury car and the performance of a street-legal race car. Built completely by hand, the details are exquisite – from simple touches like the dedicated magnetic holder for the key fob to a removable hardtop that fits perfectly into a dedicated slot in the front bonnet. The designers even put two cup holders in between the driver's and passenger's seats. A small detail, but how many performance cars offer cup holders for both the driver and passenger?
"We're in a special period in time where these exceptional cars are being built in such limited volume," concluded Strayhan. "Each car is a hand-crafted work of art. There will only be 80 Regeras in the entire world. And each one is different."
In addition to his CCXR and Regera, Eddie Lee has Koenigsegg's latest creation on order: the Jesko, named for Jesko von Koenigsegg, the father of company founder and CEO Christian von Koenigsegg. Unveiled last year at the Geneva International Motor Show, and revealed in a private event in Dallas last summer, the Jesko takes everything Koenigsegg has developed to date and puts it into an even lighter, more powerful megacar. The Lee's Jesko is scheduled to be delivered mid-2021.
Located at 5300 Lemmon Avenue near Love Field, Park Place Premier Collection features Koenigsegg Dallas, Rolls-Royce Motorcars Dallas, Bentley Dallas, Park Place Maserati and McLaren Dallas.
---
Founded in 1987 with a single Mercedes-Benz dealership on Oak Lawn in Dallas, Texas, Park Place Dealerships also represents luxury brands Lexus, Mercedes-Benz, Porsche, Volvo, Jaguar and Land Rover. For more information, visit parkplace.com.