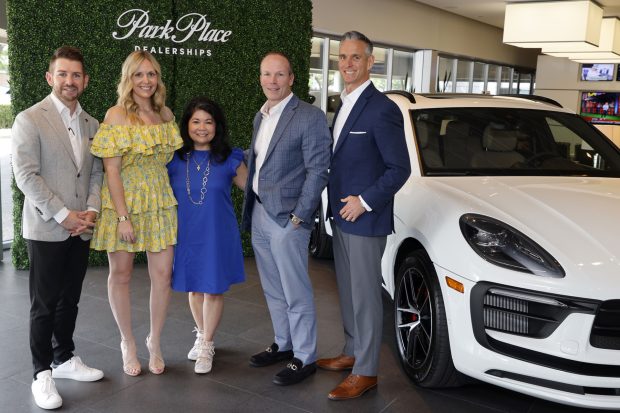 Park Place Porsche Dallas recently hosted the Raffle kickoff party for the 2022 Dallas Cattle Baron's Ball, which will be held September 17 at Southfork Ranch in Parker, Texas. The ball is the largest single-night fundraising event for cancer research in the world.
The event also featured the introduction of the new 2023 Porsche Macan SUV. With the base turbo four-cylinder, the Macan leaps to 60 mph in just five seconds. Upgrade to the twin-turbo V-6–powered S or GTS models, which squeeze out 434 horsepower, and nimbly reach 60 mph in just 3.5 seconds. More importantly than the speed, the Macan performs remarkably like a Porsche sports sedan. And isn't that really what you want from a Porsche SUV?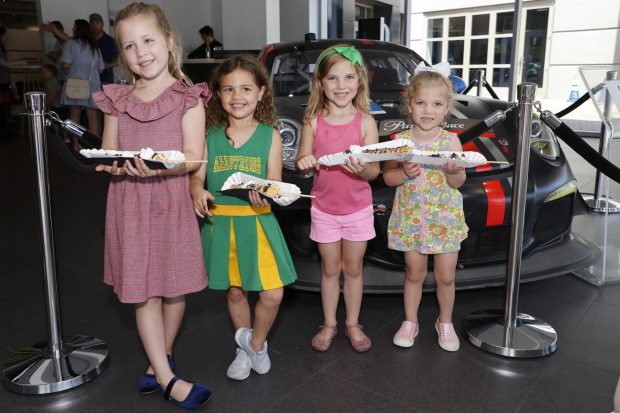 Power is sent to all four wheels via Porsche's seven-speed dual-clutch automatic, but the Macan T's all-wheel-drive system sends more power to the rear wheels to help the crossover turn in more sharply. The T also rides on 20-inch wheels, gets a firmer suspension, and comes with Porsche's Sport Chrono package as standard. The Macan T also comes with sportier front seats as standard.
Guests enjoyed scrumptious delicacies from Nightowl coffee, a waffle bar, Biscuit Bar, and a Mimosa Bar. Guests also enjoyed viewing unique art pieces crafted from the rear wing of Porsche "Whales Tails" by French artist Johans Lamic. More information on his fascinating project is available at https://thewhaletailproject.com/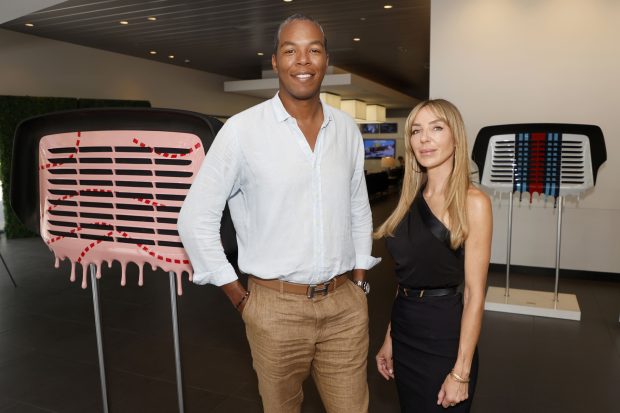 The 2022 Cattle Baron's Ball will feature superstar country band Old Dominion as the headliner with Chris Young playing the VIP party. Old Dominion has been the Country Music Association Vocal Group of the Year 2018, 2019, 2020, and 2021, known for hits like "One Man Band," "Never Be Sorry, and "I Was On a Boat." VIP party entertainer Young shot to superstardom after winning season 4 of Nashville Star; his biggest hits include "The Man I Want to Be," "Gettin' You Home," and "Drowning."
The VIP and Live Auction Stage will be outside on the ranch, with the Main Stage under a tent and the silent auction inside the Southfork Ranch Event and Conference Center, organizers say.
Park Place will once again provide a choice of luxury vehicles to choose from for the raffle winner, valued at approximately $60,000: from their lineup of Jaguar, Land Rover, Lexus, Mercedes-Benz, Porsche, or Volvo models. Raffle tickets are on sale now at $100 each or six for $500. The winner is responsible for all taxes, title, and registration fees. To purchase raffle tickets, call 214-4434-9222 or email cattlebaronsdallas@cancer.org.
Cattle Baron's Ball is the premier fundraiser for the American Cancer Society in North Texas and has raised more than $89 million since its inception in 1974. More information, including tickets, is available at https://www.cattlebaronsball.com