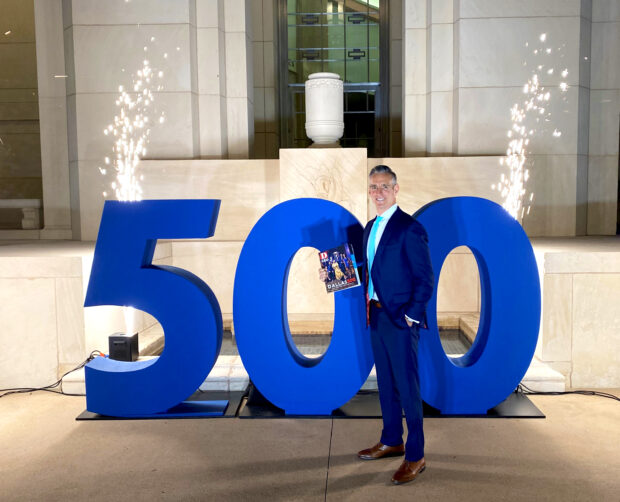 Park Place Managing Director Tony Carimi has been named one of Dallas' Top 500 leaders by D CEO magazine. Now in its seventh year, the annual publication is the culmination of six months of research by the editors of D CEO and includes 197 new names to the revered list which include Mark Cuban and George W. Bush.
Along with their toughest challenges and strategies for success, leaders shared what they order at their favorite restaurants, their hobbies, passions, and what they'd choose as their walk-up song. Tony highlighted the amazing Members who come to Park Place every day to serve clients and the community. Congratulations, Tony!
See below to read Tony's full interview, which was featured in the D CEO December issue and contributed to the choosing of being in the 500 leaders by D Ceo.
2022 Dallas 500 Interview Q&A
What was your first job, and what did you learn from it?

 Working for my grandfather's oil distributorship in Odessa, TX. He provided a front-row example showcasing the value of a client, the importance of relationships, and hard work. 

What piece of advice has had the most significant impact on your career?

  "Seek humility before humility finds you." It is critical to understand your own capabilities in relation to others and the situations that you face. Always surround yourself with passionate talent and leverage the group to evolve your organization while ensuring that the experience for your team members and clients that you serve remain the driving force.

If you could have dinner with any two DFW business leaders, who would you choose and why?

Carl Sewell and Ken Schnitzer. In my 27-year career in the automotive industry, I have had the honor to work for and learn from two of the best. Not just leaders in automotive but retail as a whole. As time has progressed, you recognize the value of mentors and the importance of healthy competition that continues to push you and your team to enhance the experience. In the end, your team and the consumers are the ones that benefit. 

What are some of your favorite destinations/places to visit?

It is hard to beat Aspen in the summertime. New York City also holds a very special place. 

Is there a nonprofit cause that has special meaning to you? Please tell us about it.

Through Park Place Cares, we are able to provide a dynamic outreach program that supports over 250 organizations throughout the DFW area. We provide all of our team members 5-days of paid volunteer time every year to support Arts, Medical Research, Advocacy, and Education. We must pursue the highest standards of corporate responsibility in everything that we do by supporting and empowering our teams to improve the quality of life in the communities where we do business.  

If you could give your favorite person any gift this year, what would it be and why?

Time and presence. As we continue to mature, we recognize the true commodities of value to others and ourselves.

What's your hobby/passion?

I love to run and exercise. The "think" and recharge time is imperative.

What is your favorite DFW-area restaurant and what do you order there?

Homewood – Matt McAllister and his team do such an amazing and creative job utilizing quality ingredients while maximizing flavors and textures.  

What would people be surprised to learn about you (fun fact)?

I was a member of the Singing Cadets during my time at Texas A&M University 

If you could drive one car for a day, what would it be and why?

That is the easiest question of all. It would be a Park Place vehicle. The badge stands for luxury and excellence which is exemplified in all of the brands that we serve.

What's the toughest business challenge you've had to overcome?

Navigating the ever-changing challenges of the pandemic while working to ensure the safety of our team members and clients is always at the forefront of all the decisions that are being made.

What has been your/your company's most significant success over the last 12 months?

Seeing Park Place's team members unite and build a home in partnership with Habitat for Humanity. This was Park Place Cares largest organizationally-combined initiative in our 34-year history. We pursue the highest standards of corporate responsibility in everything that we do – and that includes supporting and empowering our team members to improve the quality of life in the communities in which we do business.   

What is the most interesting trend you're seeing in your industry? What's driving it, and how does it impact your company?

Electrification. In the emerging market of electric and hybrid automobiles, manufacturers that Park Place represent are rolling out new vehicles which capture the cutting edge of this rapidly evolving technology which will define the future of the automotive industry.

What is one thing you would change about Dallas to make it even better?

As Dallas continues to attract top companies and talent, we must ensure that we provide the necessary resources and strategy to focus on the development and education of our children. Our public education system needs to match and be reflective of the nation-leading business environment that we have created. 

As you enter your office, what would you choose to be your walk-up or theme song and why?

Don't Stop Believing – Journey. Every day brings opportunity and challenges. The key is to have a clear focus on your purpose and values while owning the responsibility that you have to those that you serve.

What is one book you think everyone should read (or podcast everyone should listen to) and why?

Start With Why – Simon Sinek. His comment of, "What if we showed up to work every single day to be better than ourselves? For no better reason than to want to leave the organization in a better state than we found it?" We must all be responsible stewards of our business. The Park Place legacy is bigger than any individual and our leaders all understand the importance of protecting and evolving that legacy.

What is the biggest risk you have ever taken?

Allowing our leaders to take risks. It was hard to let go and understand the possibilities and growth that is attained when you allow your team to try new things and new processes. True growth does not come without failure and learning. That failure is what creates improvement and innovation.

Name one item on your bucket list.

To have the ability to experience and be a part of my daughters attaining their personal and professional dreams. Their display of their servant heart in life and in their fields of Healthcare and Education provides a sense of pride that could not be duplicated by any other experience.

What has you most excited about the future?

Watching the growth of our teams and the individual accomplishments that are both personal and professional that our members achieve. The legacy of Park Place is relationship-based. Though trends, products, and technology will change, keeping focused on the fact that we are in the people business will ensure that Park Place is positioned for success for many years to come.