DALLAS (May 19, 2021) – Park Place Motorcars Dallas recently was crowned the best Customer Experience team in the country during the Mercedes-Benz Global Customer Experience Challenge. The team included Motorcars Dallas team members Darren Densman, centralized diagnostic technician of Kaufman, Texas; Brian Johnson, sales experience manager, of Dallas; Alfonso McClurg, master technician, of Dallas; C.J. Harper, service manager, of Heartland Texas; Matt Overs, Shop Foreman, of Mesquite; and Erik Bohdan, sales experience manager, of Dallas.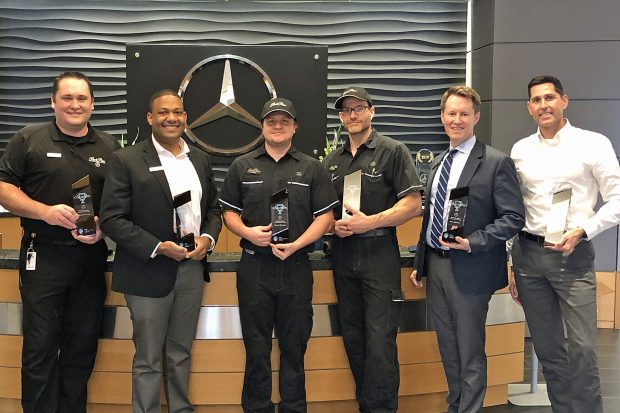 Mercedes-Benz teams from across the country competed online in various quests focused on connectivity. By proving their expertise, the Motorcars Dallas team finished first to win the National Championship. The Park Place Motorcars Dallas team then went on to place 14th worldwide out of 889 teams and 4,830 participants from 25 countries in the Global competition.
"This is a tremendous honor for our team," said Tony Carimi, managing director of Park Place Dealerships. "As an organization, Mercedes-Benz is known as 'The Best of the Best.' It certainly applies to this talented group of professionals who are committed to working together and delivering only the best for our clients."
Mercedes-Benz USA recognizes only the top 22 percent of its dealerships with the Best of the Best Award. That means only one out of five dealerships receive this esteemed award. Park Place Motorcars Dallas has been awarded this prestigious honor more than a dozen times.
Park Place Motorcars Dallas, located at 6113 Lemmon Avenue near Love Field Airport, has 350 members; more than 50 who have been with Park Place for more than a decade; 40 have 15 – 20 years tenure; 16 have 20 – 30 years; nine have served 30 or more years, and two people more than 40 years.
"I'm very proud of our team," said Park Place Motorcars Dallas General Manager Robert Morris. "This achievement is about our members, and what they do every day to earn trust through honesty and hard work. Our team continues to find innovative ways to deliver an outstanding client ownership experience."
Park Place Dealerships was founded in 1987. For the past 34 years, the company has been engaged in the community through its support of the arts, medical research, children's advocacy and education. Park Place Dealerships employs more than 1,400 members and operates eight full-service dealerships representing luxury brands including Lexus, Mercedes-Benz, Porsche, Volvo, Jaguar, and Land Rover. For more info, visit parkplace.com.